Coffee & Side Tables
Ayunan Coffee Table
Regular price

$1,290.00

Sale price

$1,290.00
Elevate your living area with the Ayunan Coffee Table and experience the unparalleled blend of nature's finest materials. Bring home this exceptional piece today, and enjoy the timeless beauty of natural Travertine and Teak wood in your space.
Features

Natural, unsealed Travertine top with unique cracks, holes, and markings
Naturally matte, porous finish that showcases the beauty of Travertine
No two pieces are alike, ensuring a truly one-of-a-kind centerpiece
Sturdy Teak wood legs for a perfect balance of warmth and durability
Elegant design that complements various interior styles
Dimensions

Dimensions: D80cm x H35cm


Handling and Care

To maintain the natural beauty and longevity of your Ayunan Coffee Table, featuring an unsealed Travertine top and Teak wood legs, follow these simple care instructions:

Dust regularly: Use a soft, dry cloth or a microfiber duster to gently remove dust and debris from the Travertine top and Teak wood legs. Avoid using abrasive cleaning tools that can scratch the surfaces.

Clean spills immediately: If any spills occur, quickly clean them up with a damp cloth, followed by a dry cloth to prevent moisture damage to the Travertine or wood. Refrain from using harsh chemicals or cleaning agents, as they may harm the materials.

Use coasters and pads: Protect the Travertine top from potential damage caused by hot or cold items by using coasters, placemats, or trivets. This will help prevent stains or etching on the porous surface.

Protect from direct sunlight: Prolonged exposure to direct sunlight can cause the natural Travertine and Teak wood to fade or dry out. Place your Ayunan Coffee Table in a shaded area or use window treatments to minimize sunlight exposure.

Periodic maintenance: For the Teak wood legs, apply a high-quality teak oil or furniture wax every 6-12 months to maintain their natural shine and protect the wood from drying out. Always follow the manufacturer's instructions for the specific products you use. For the Travertine top, clean it gently using a mild soap and water solution or a stone-specific cleaner as needed. Avoid using acidic or abrasive cleaners that may damage the surface.

By adhering to these care instructions, you can preserve the natural beauty and elegance of your Ayunan Coffee Table for many years to come.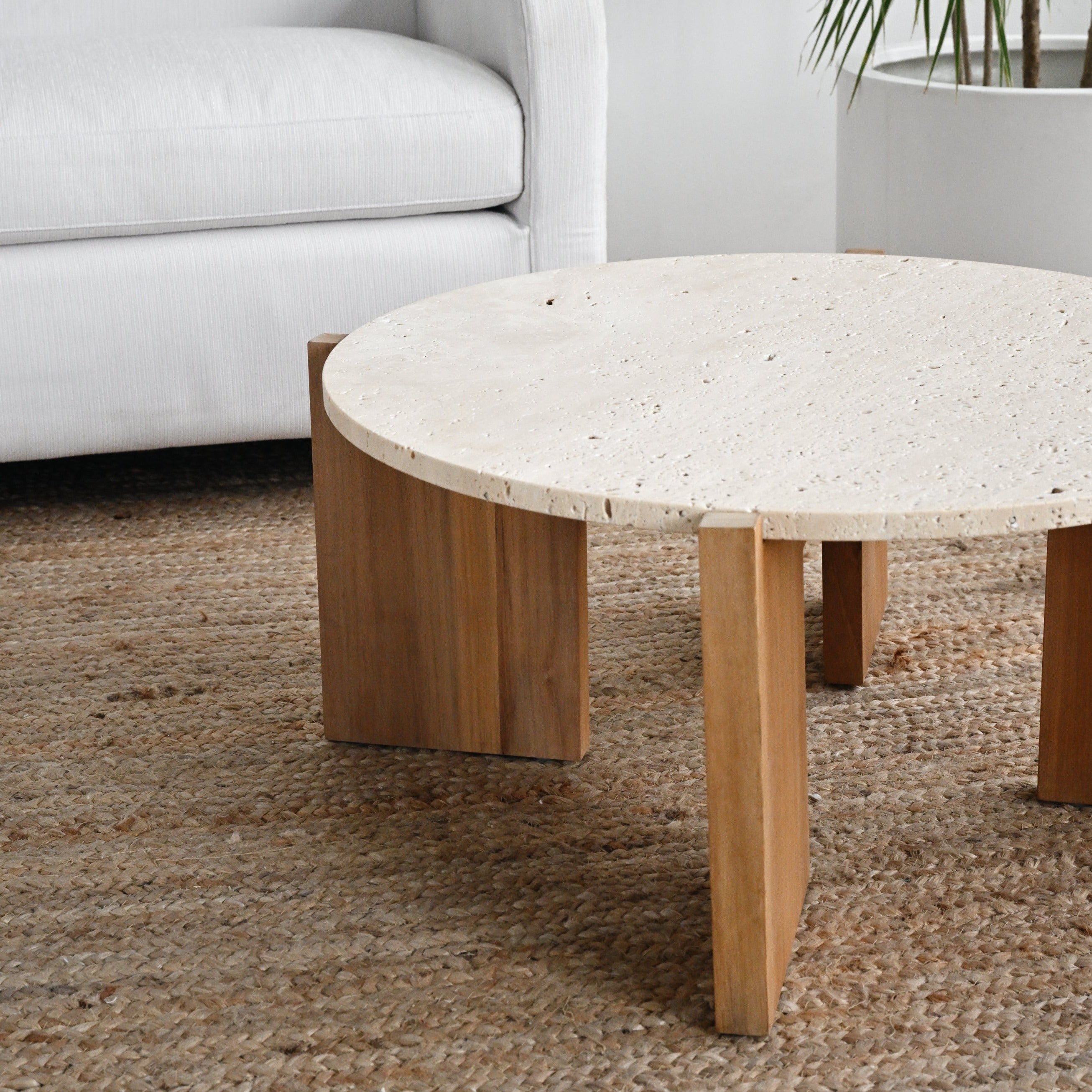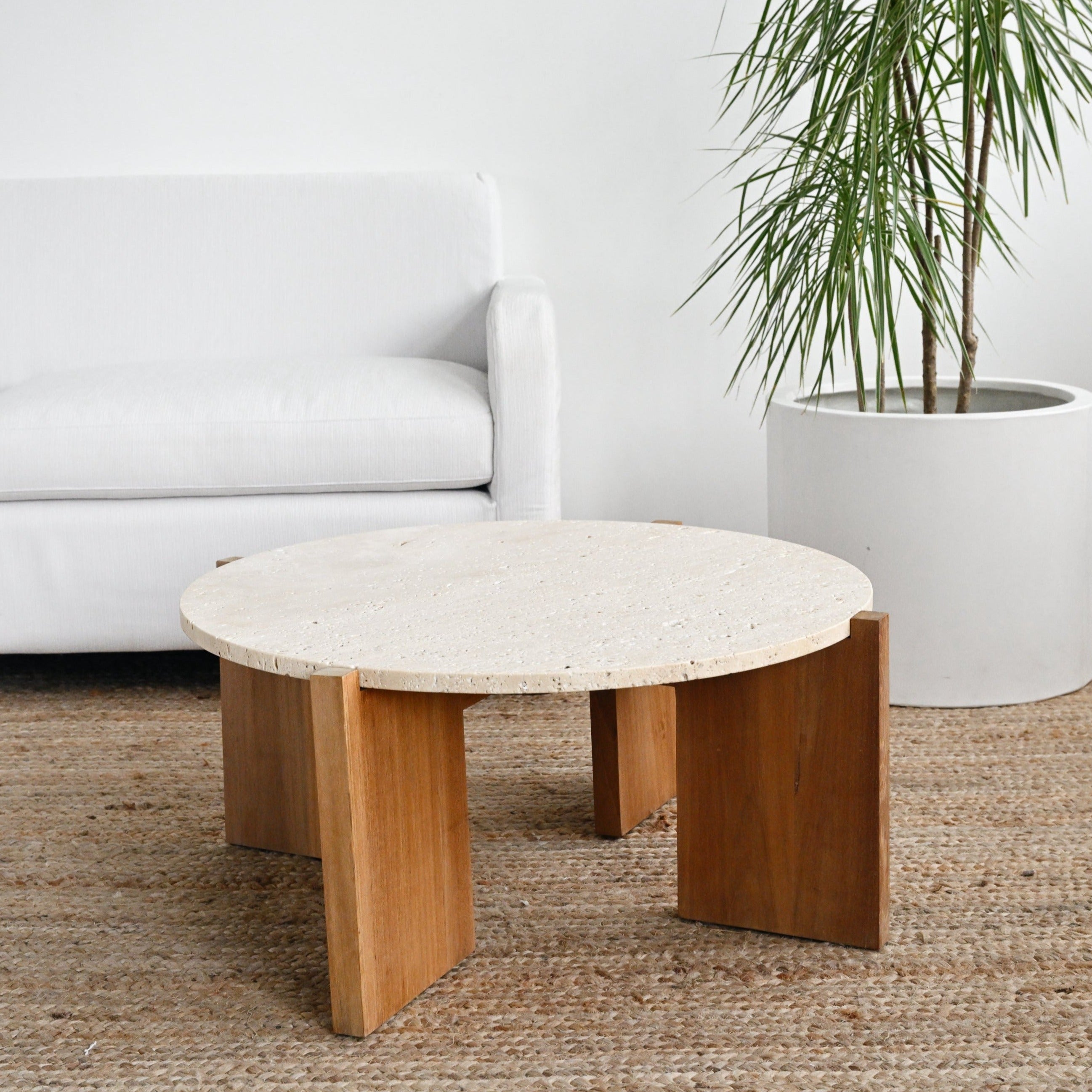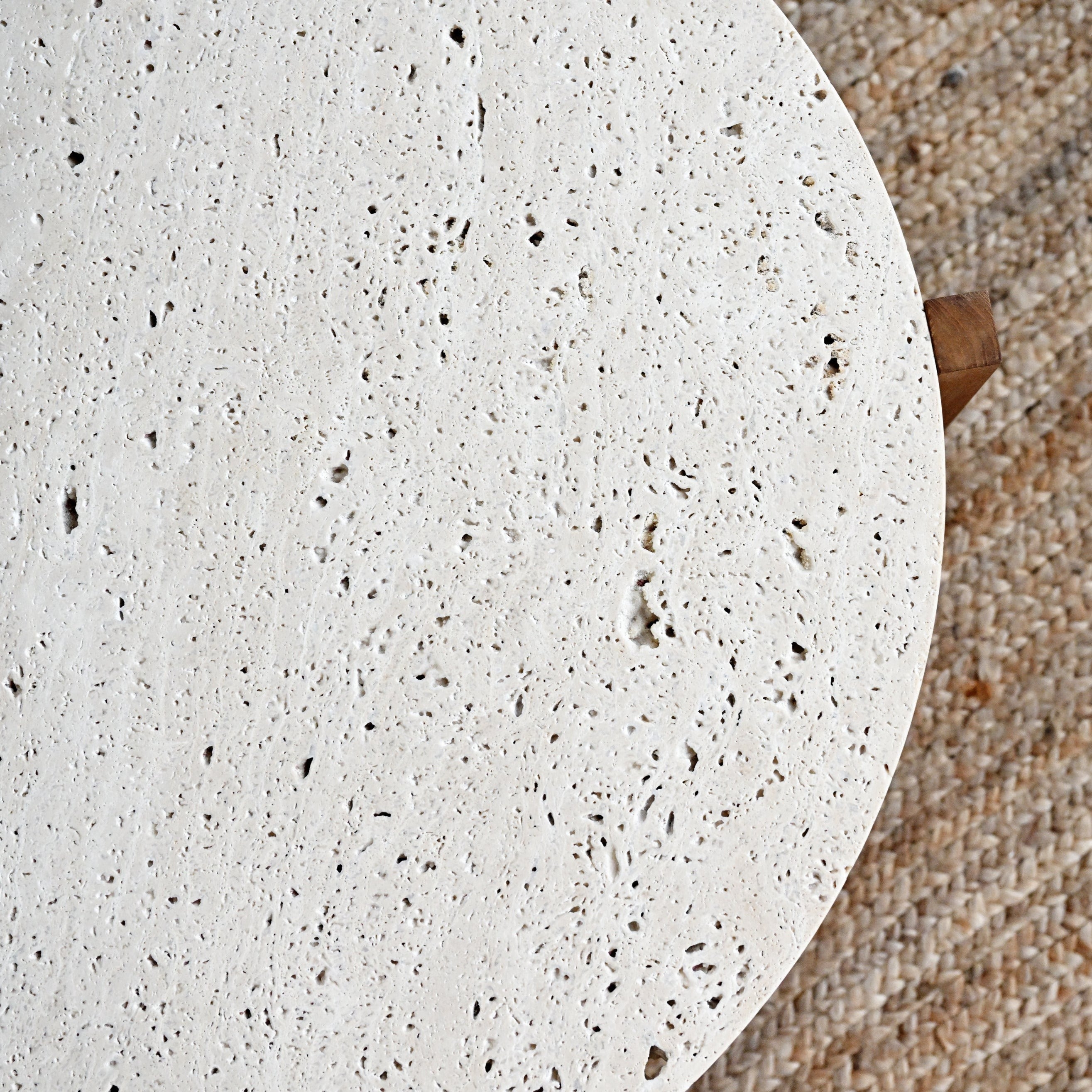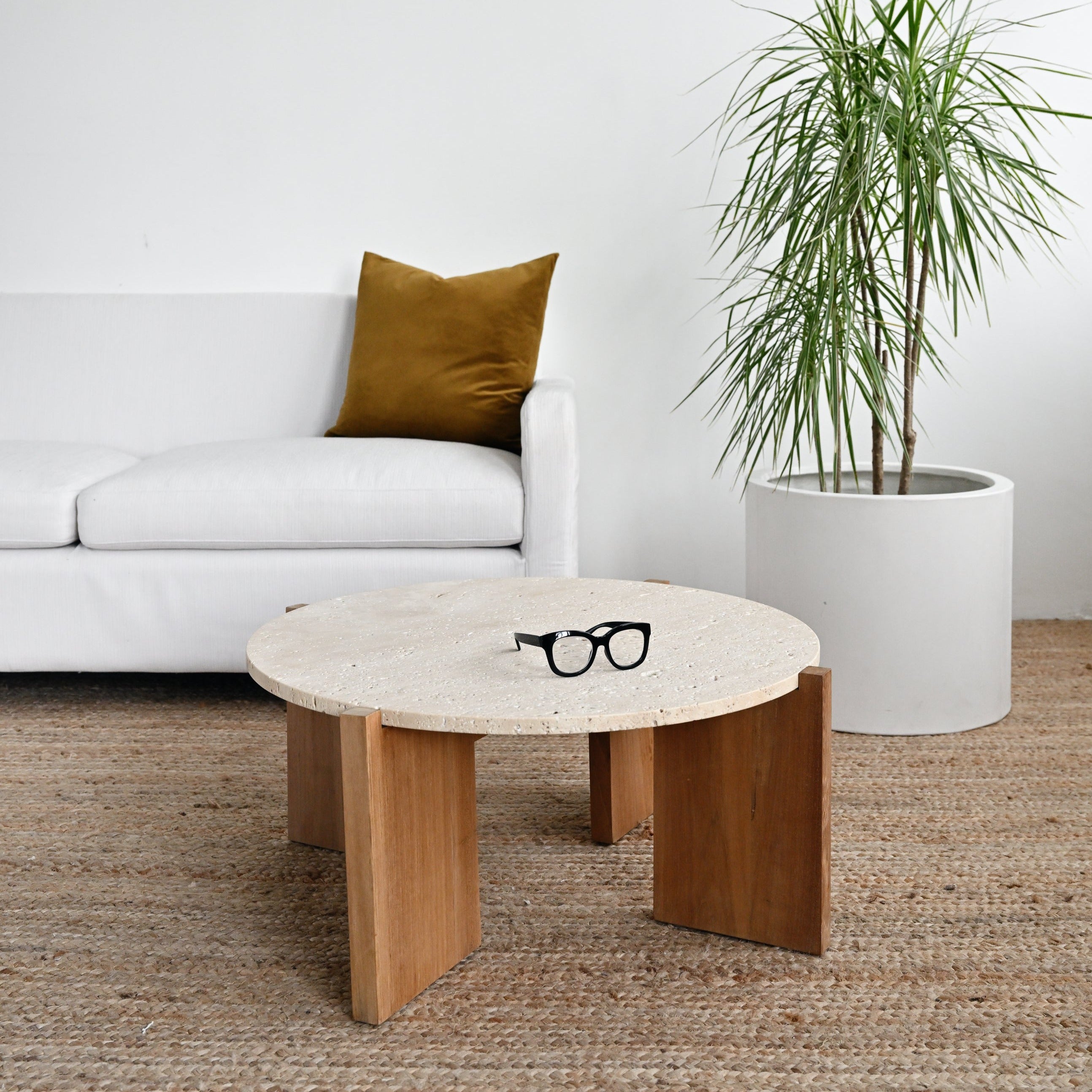 Why you'll love it
Introducing the Ayunan Coffee Table – a true masterpiece that showcases the organic beauty of natural Travertine and the warmth of Teak wood. This exquisite coffee table is designed to be a functional centerpiece and a conversation starter, bringing the charm of nature into your living space. The Ayunan Coffee Table features a stunning natural Travertine top, a type of limestone that is formed over time by mineral deposits in natural springs. Each piece of Travertine is unique, displaying natural cracks, holes, and markings that add character and depth to your table. To preserve the authentic beauty of this material, we have left the Travertine unsealed, revealing its naturally matte, porous finish. Supported by robust Teak wood legs, the Ayunan Coffee Table combines durability and elegance in perfect harmony. The warm tones of the Teak wood contrast with the cool, natural allure of the Travertine top, creating a captivating visual balance that enhances any room.
Sustainable

We prefer eco-friendly and sustainable materials.