Bookshelves
Gili Offset Bookshelf - Natural
Regular price

Sale price

$1,290.00
Bring the beach vibes home with our Gili Offset Bookshelf! Sustainable mango wood and a unique geometric design make it perfect for displaying your faves. Keep clutter at bay with partially closed storage and add coastal charm to any decor. Handmade in Indonesia, eco-friendly and easy to care for.
Features

- Made in Indonesia from kiln-dried natural Mango Wood and handwoven Rattan panelling

- Mango wood has an interesting and unique grain pattern, which adds to its aesthetic appeal. It can vary in color from light brown to dark brown, with occasional streaks of pink, yellow, or black which only adds to the appeal and uniquiness of each piece

- Mango wood is a sustainable resource because it is sourced from trees that are grown for their fruit, and only older, less fruitful trees are used for timber. This practice not only generates additional income for farmers but also helps to minimize waste and pollution

- Can be used indoors and outdoors undercover - away from direct sunlight and rain



Dimensions

Width: 105cm
Depth: 35cm
Height: 156cm

Handling and Care


- Clean off dust and debris regularly from rattan sections with a soft-bristled brush or vacuum with brush attachments

- Wipe down with a mild soap detergent. Do not use harsh cleaners or abrasives

- Avoid the use of products containing acetone (eg nail polish and nail polish removers) around this product as the ingredients can damage the finish. All other spills, especially coloured liquids eg red wine, mustard, oils should be wiped up immediately to avoid staining the finish

- Can be used outdoors but keep away from rain and direct sunlight

- Never allow children to climb or hang onto draweres, doors or shelves. If required, use of an anti-tip kit is provided and is recommended for additional safety. However it may only reduce, but not eliminate, the risk of tip over.

- Never open more than one drawer at a time. Place heaviest items in the lowest drawers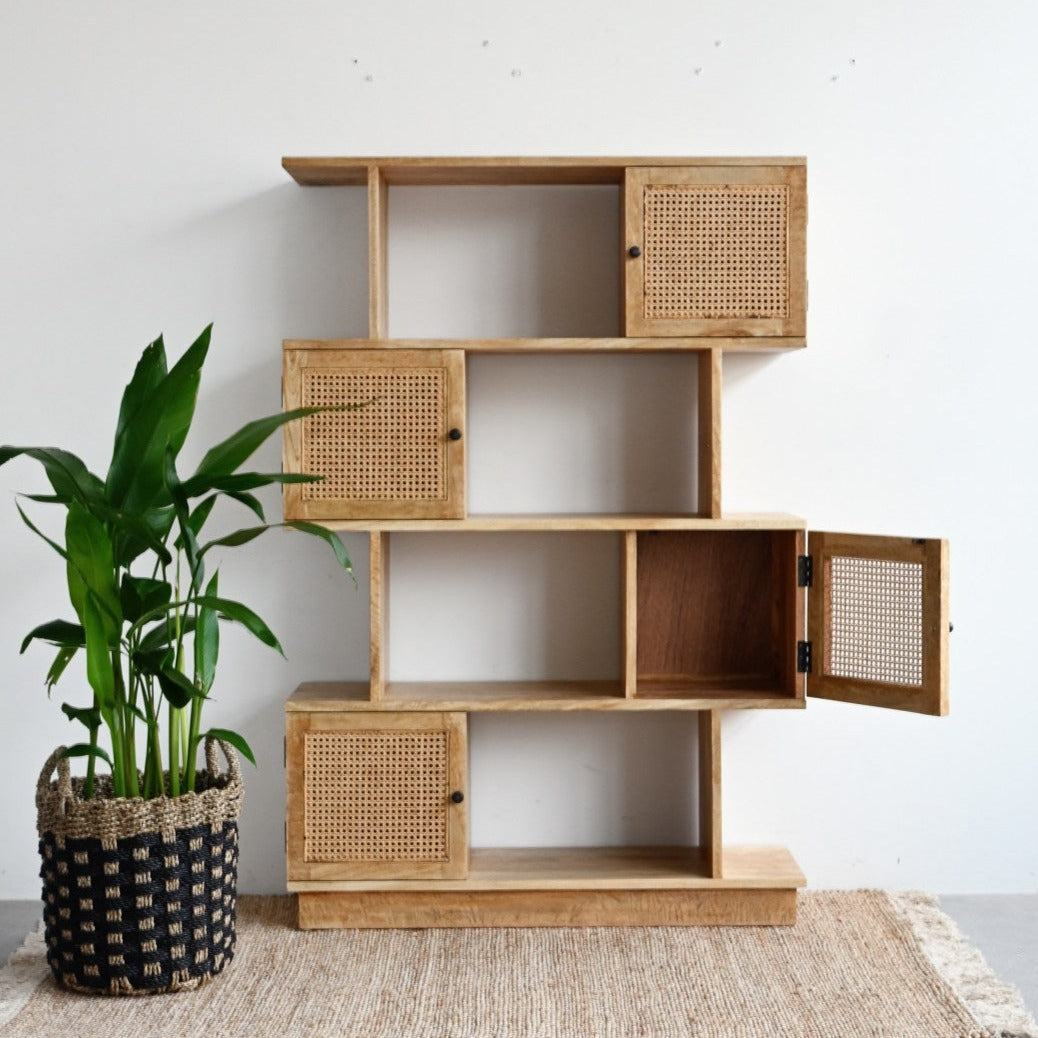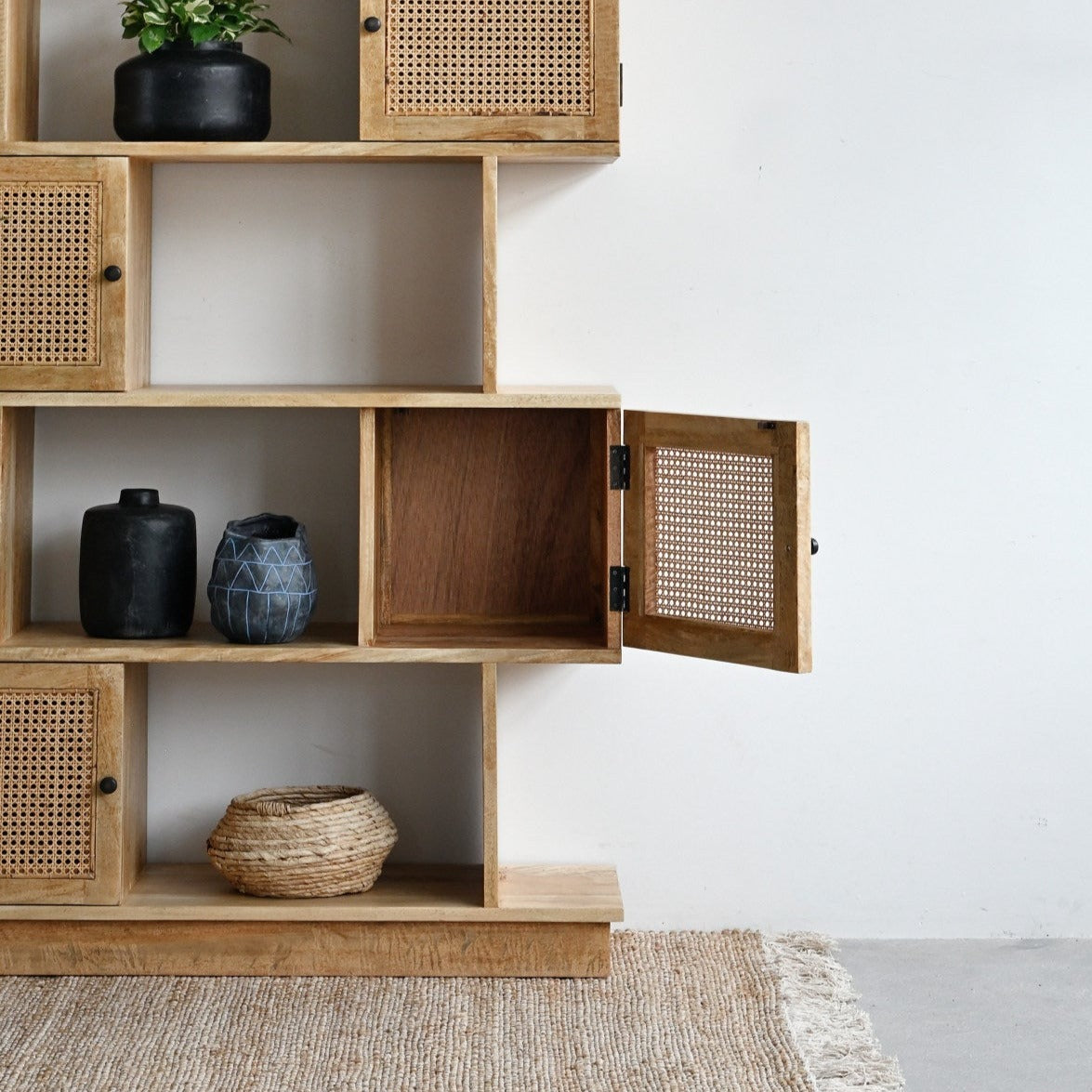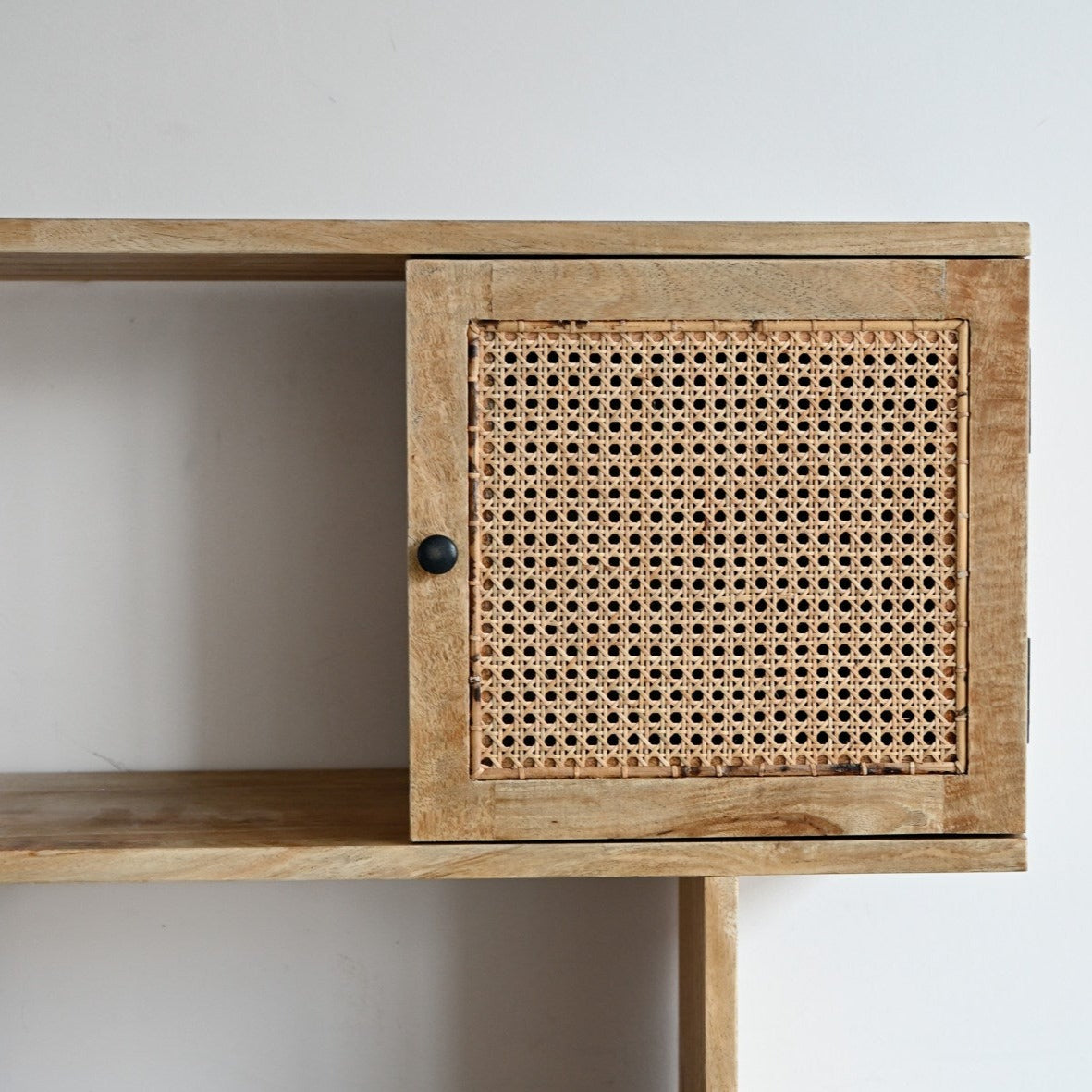 Why you'll love it
Bring the beach to your home with our Gili Offset Bookshelf! Crafted from sustainable mango wood, this unique geometric design is perfect for displaying your favorite books and decorative items. With partially closed storage, you can easily tidy away clutter and keep your space looking neat and organized. Handmade in Indonesia, this bookshelf is not only stylish but also eco-friendly. Plus, it's available in a white washed finish to match any decor. Mango wood is a sustainable source of wood, as the trees are grown for their fruit and replanted every 7 to 15 years. The older trees are then sold for their wood, providing additional income for farmers while reducing wastage and pollution. So not only will you be adding a stylish piece to your home, but you'll also be making a positive impact on the environment. Care is easy too - simply wipe with a damp cloth and avoid harsh chemicals. Add a touch of coastal charm to your home with the Gili Offset Bookshelf!
Sustainable

We prefer eco-friendly and sustainable materials.