Cushions & Throws
Half Taupe Indoor Outdoor Handwoven Cushion
Regular price

Sale price

$89.00
Indulge in sustainable luxury with our Half Taupe Handwoven Cushion – redefine comfort while supporting the planet.
Features

- Handwoven by skilled artisans in India using recycled PET plastic
- Soft and wool-like feel perfect for indoor and outdoor use
- Available in a cover only option or with an insert; features a zipper for easy removal and cleaning.
Dimensions

Length: 55cm | 21.65 inch
Width: 55cm | 21.65 inch
Takes a 65cm x 65cm feather insert for a full, luxurious cushion (available separately)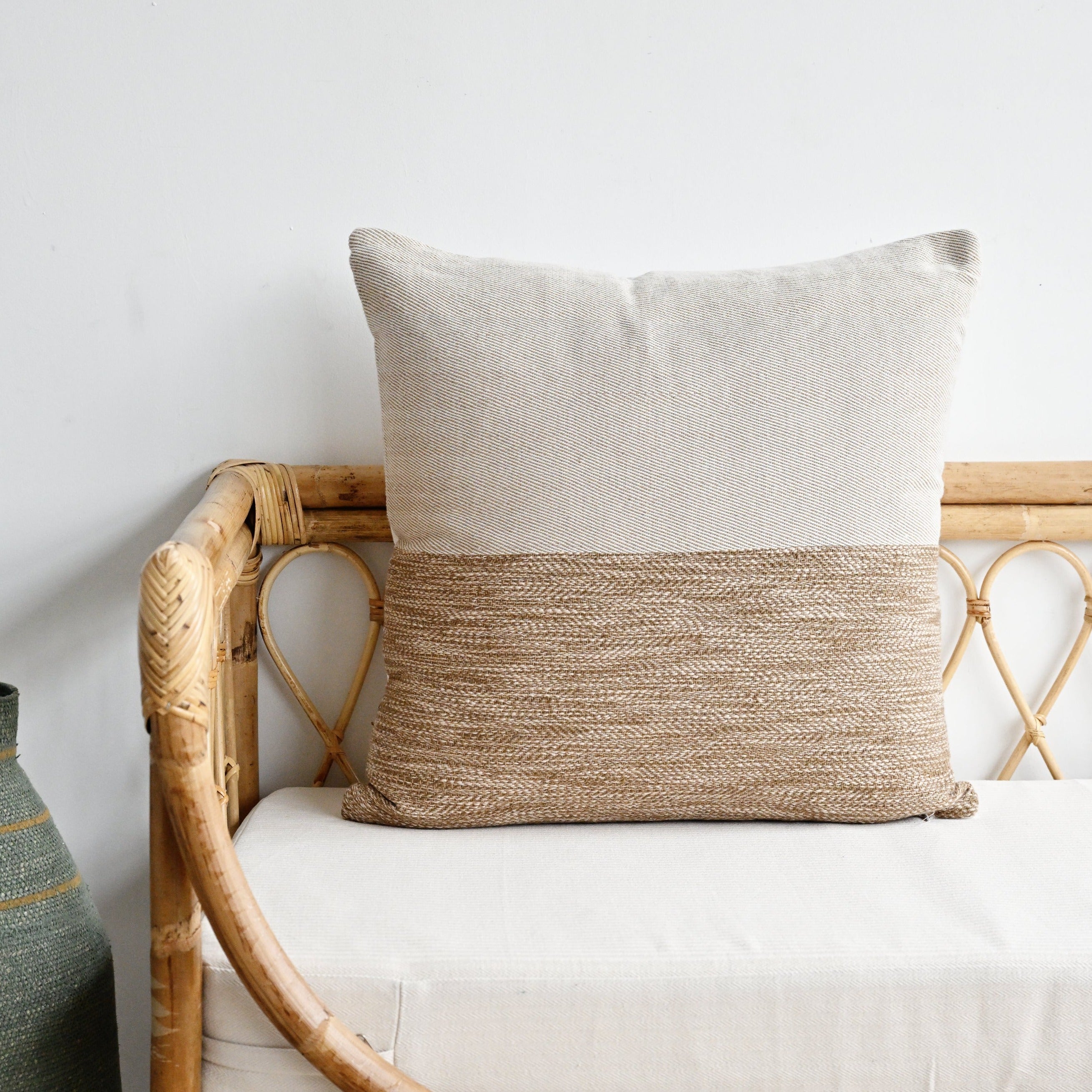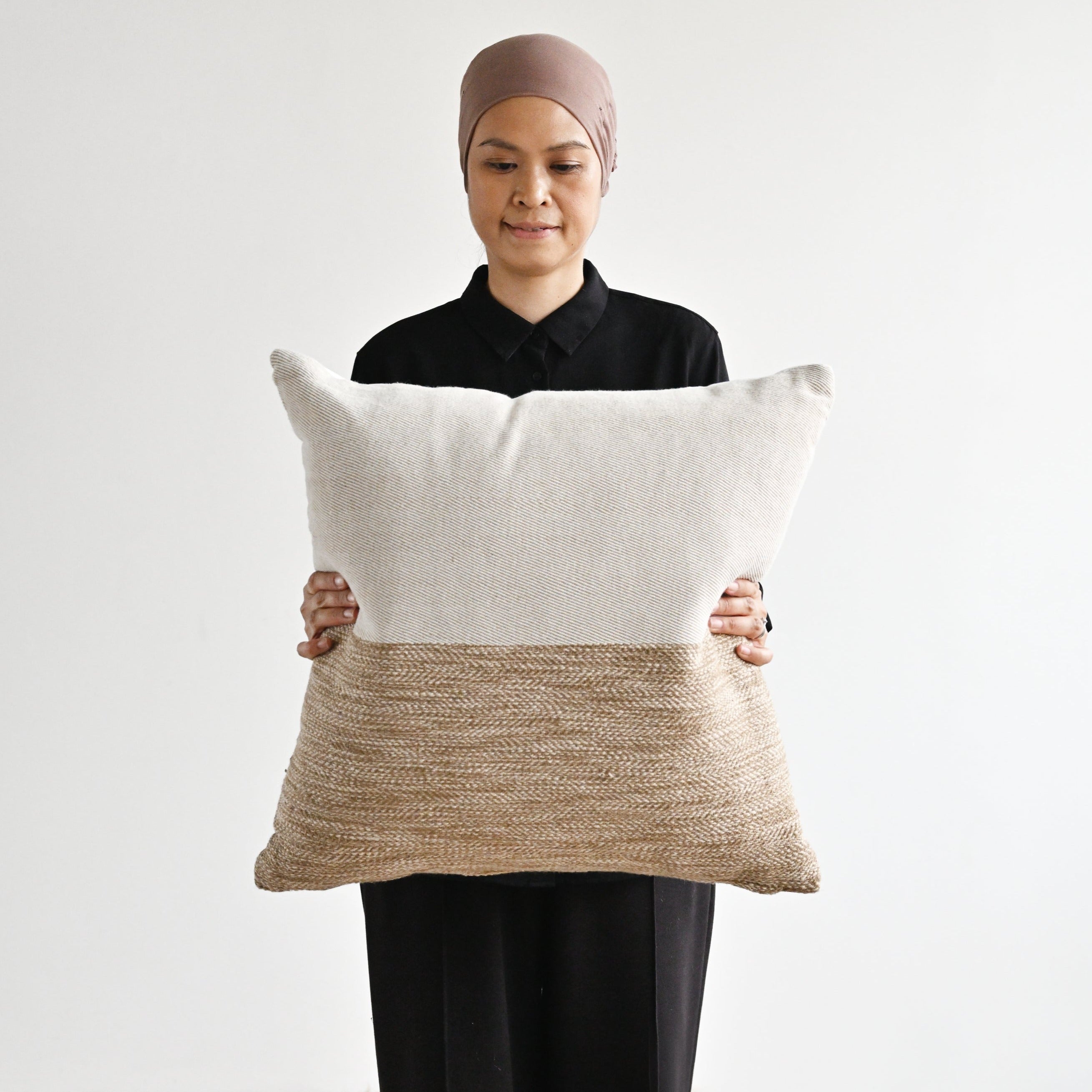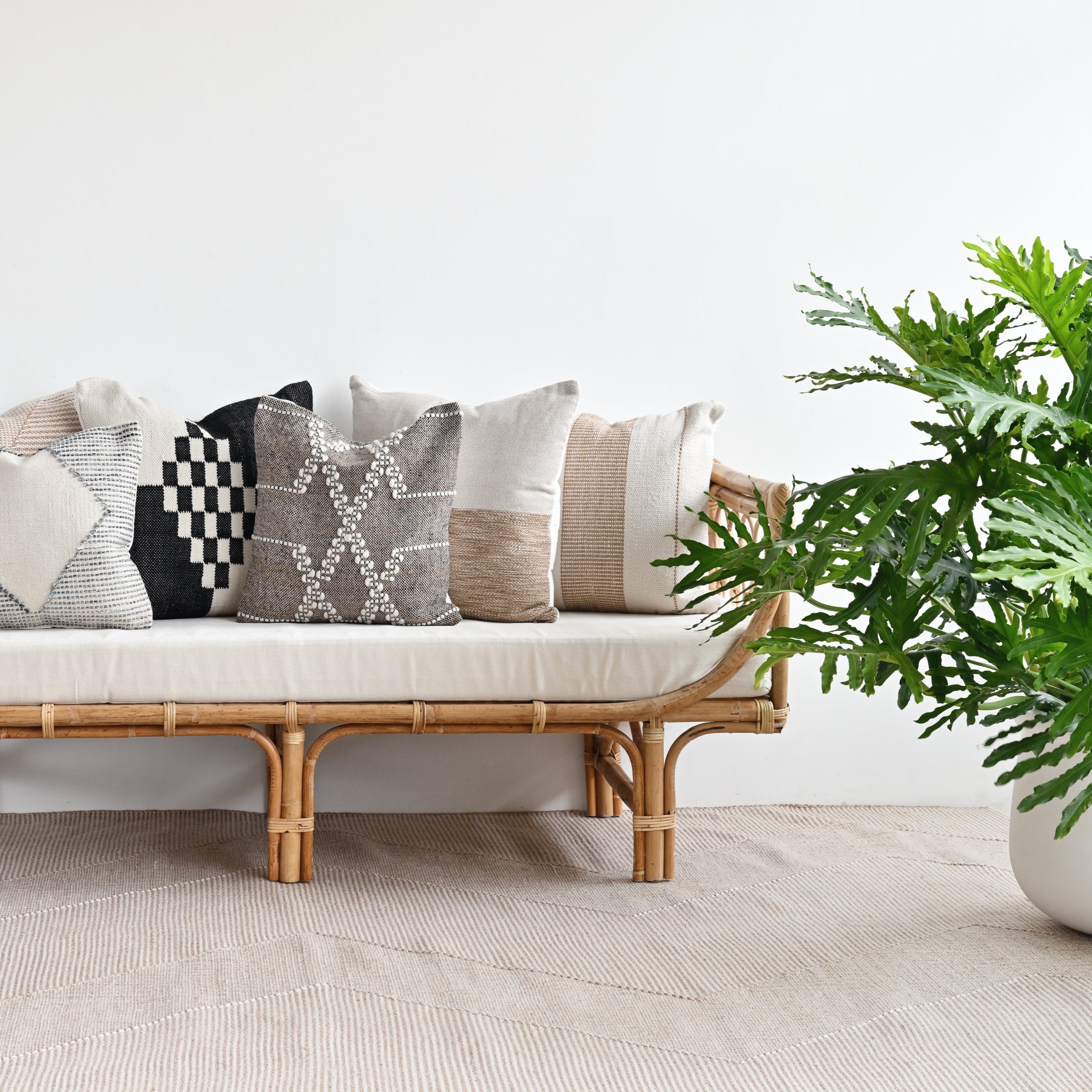 Why you'll love it
Introducing our Half Taupe Indoor Outdoor Handwoven Cushion, the perfect combination of comfort and sustainability. Crafted with care, this cushion cover features striking geometric patterns that are handwoven in India from recycled PET plastic. Despite its soft, wool-like feel, this cushion is practical and suitable for both indoor and outdoor use, making it versatile and environmentally friendly. Recycled polyester, also known as PET, is made by melting existing plastic, primarily plastic bottles, and re-spinning it into a polyester fiber. By repurposing this material, we give new life to a substance that is not biodegradable, promoting sustainability and reducing waste. Measuring L55cm x W55cm, this cushion is the perfect size to add comfort and style to any space. Made from 100% PET yarn, which is derived from recycled plastic bottles, it is a conscious choice for those who care about the environment. To care for this handwoven cushion, simply vacuum regularly on a low-power setting, and spot clean with mild soap and water. Avoid using bleach or solvents, and instead, blot spills immediately with a clean, dry cloth. If snags occur, clip them instead of pulling. For outdoor use, hose off the cushion and ensure it is thoroughly dry before placing it back in its location. Avoid leaving it in standing water for extended periods to prevent mold and mildew growth. Each cushion is handmade in India, showcasing the skill and craftsmanship of the artisans involved. By purchasing this eco-luxe cushion, you not only elevate your home decor but also support sustainable practices and fair trade. Elevate your space with our Half Taupe Indoor Outdoor Handwoven Cushion and experience the comfort and style it brings to your living area. Make a conscious choice for sustainability while enjoying the luxurious feel of this recycled PET cushion cover.
Free Delivery and Assembly

Sustainable

We prefer eco-friendly and sustainable materials.