Featured Products
Lola 3 Drawer Sideboard - 180cm - Black
Regular price

Sale price

$1,390.00
Sleek design, clever storage. Add sophistication to your space with the Lola Sideboard, the affordable luxury for your home.
Features

- Crafted from sustainable teak wood for a more environmentally-friendly choice
- Features a sleek black painted finish for a modern and sophisticated look
- Offers ample storage space with three spacious drawers
- Can be used as an entryway console or a living room sideboard, combining form and function
- Handmade in Indonesia with attention to detail, showcasing commitment to sustainability and quality craftsmanship
Dimensions

Length: 180cm
Depth: 45cm
Height: 78cm
Handling and Care

- Keep the Lola Sideboard clean by regularly dusting it with a soft cloth. Avoid using abrasive cleaners or solvents that can damage the finish.
- To maintain the beauty of the teak wood, it is recommended to treat the Lola Sideboard with a teak oil or sealer every six months. This will help protect the wood from moisture and maintain its natural color.
- Avoid placing the Lola Sideboard in direct sunlight or near heat sources, as this can cause the wood to warp or fade over time. It is also important to avoid excessive humidity or dryness, as this can affect the stability of the piece.
- When moving the Lola Sideboard, always lift it from the bottom and avoid dragging it to prevent any damage to the legs or drawers.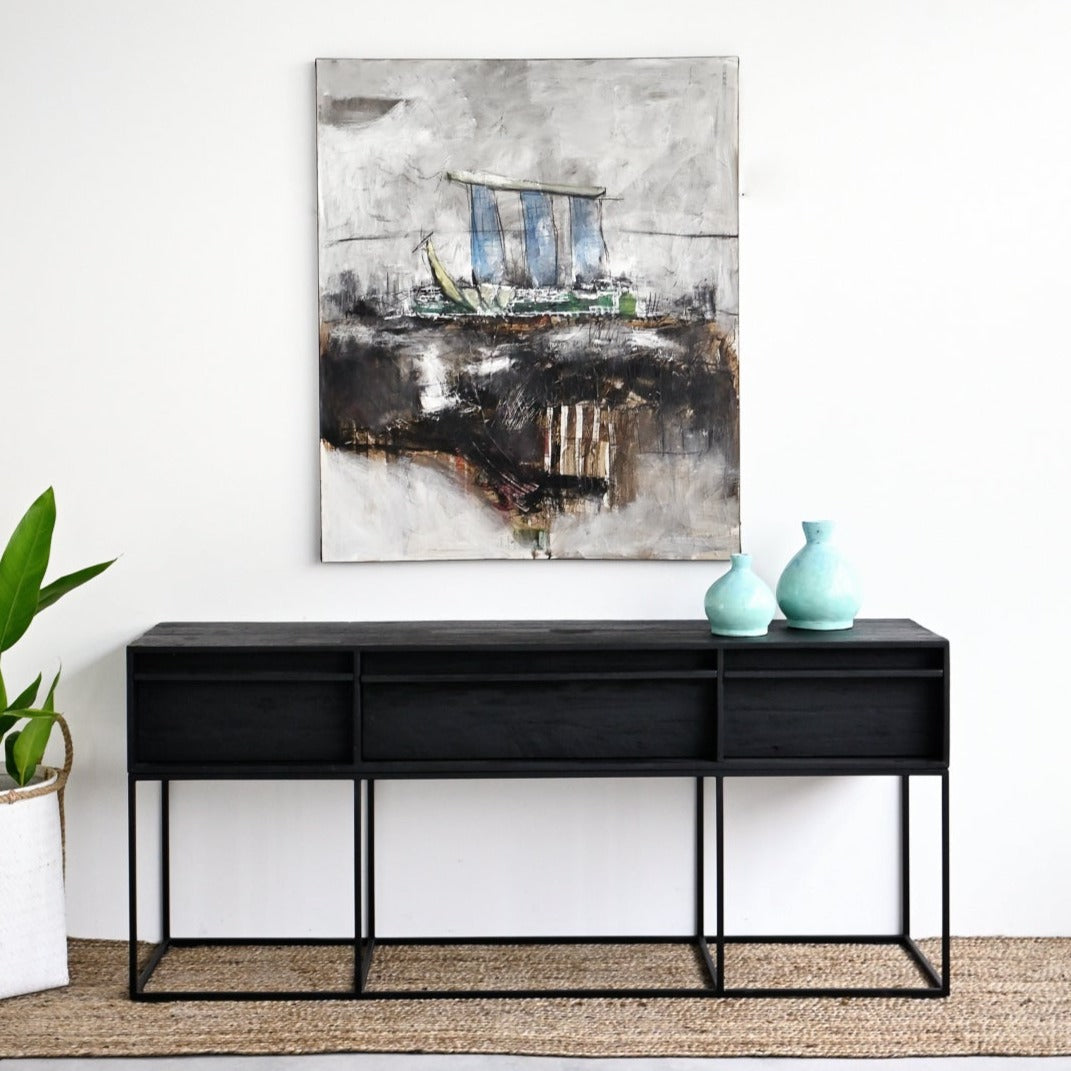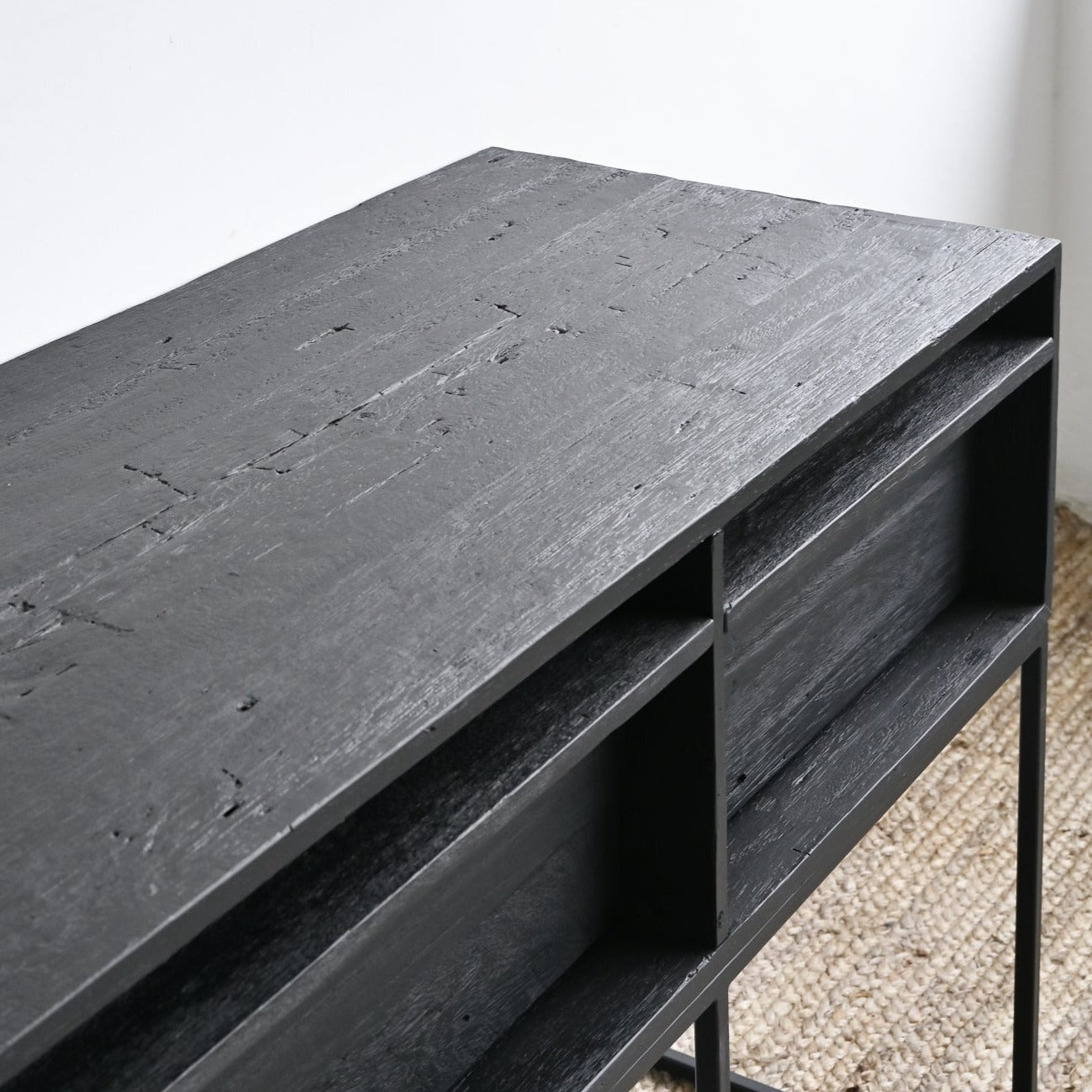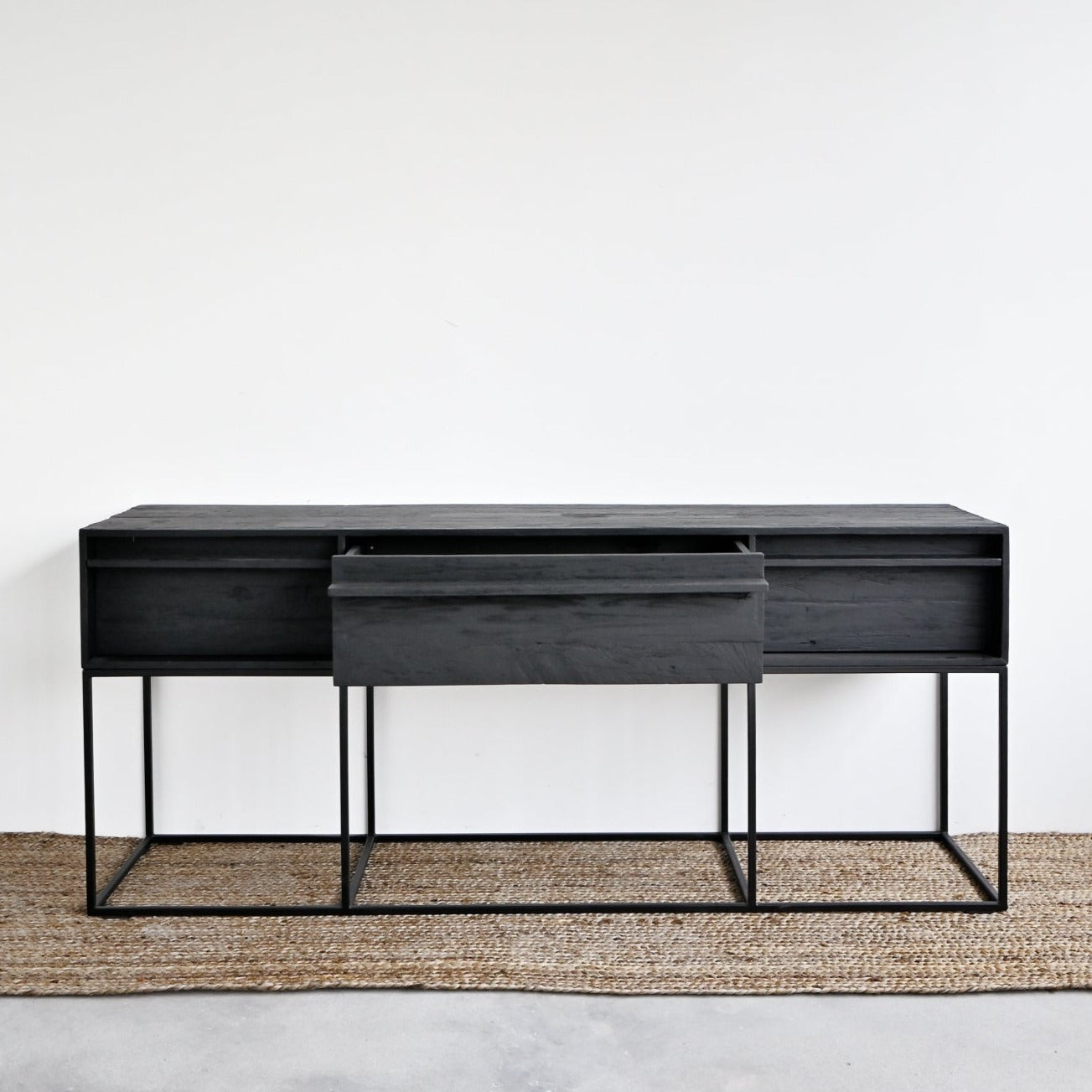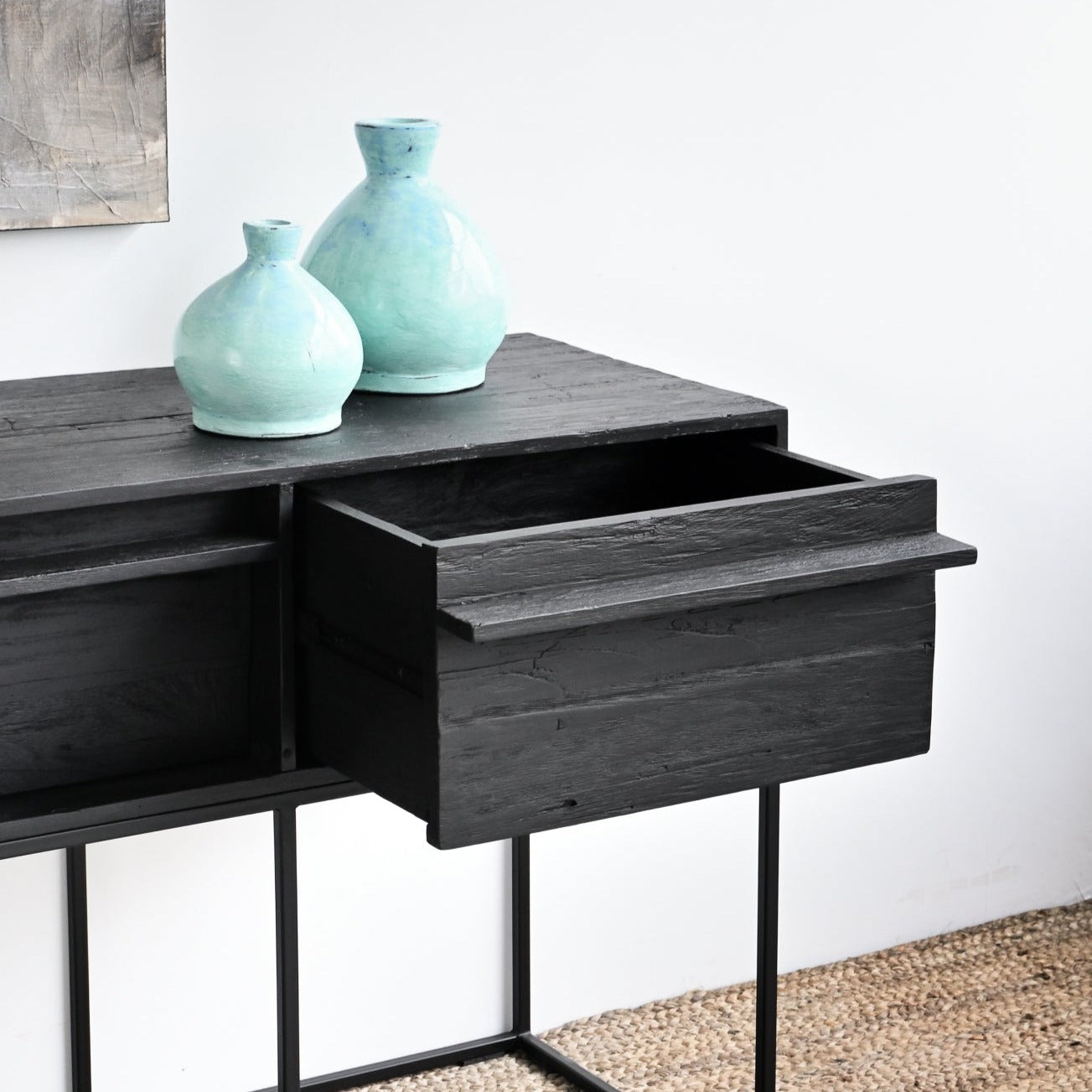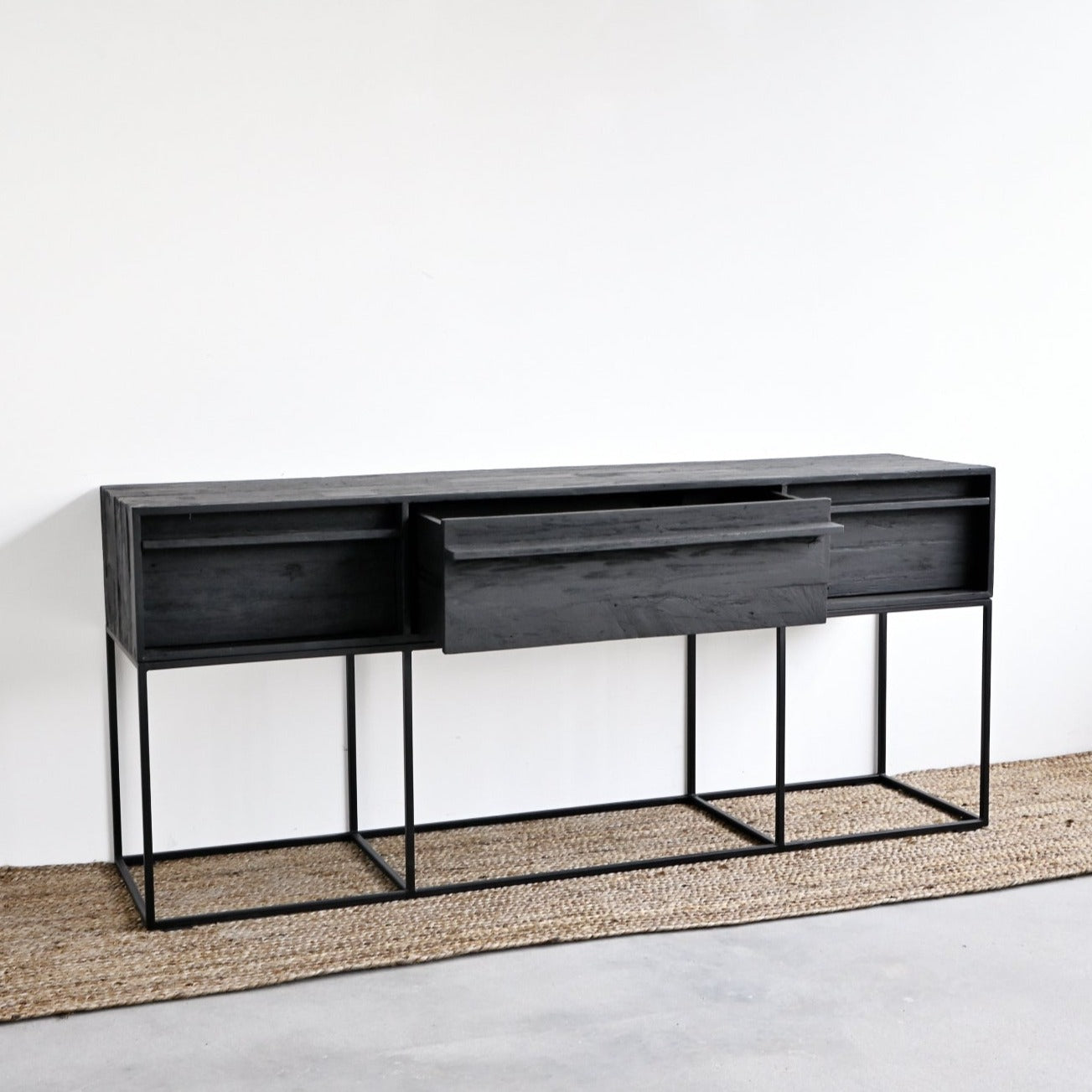 Why you'll love it
Introducing the Lola Sideboard, a masterclass in minimalist design and practicality. Crafted with care from sustainable teak wood, this sleek piece adds a touch of sophistication to any home decor. Its black painted finish exudes an air of modernity, while the three spacious drawers offer ample storage space. Whether it's used as an elegant entryway console or a stylish living room sideboard, the Lola Sideboard effortlessly combines form and function. Want a more natural look? We also offer this piece in a stunning natural finish. Handmade in Indonesia with utmost attention to detail, it showcases our commitment to sustainability and quality craftsmanship. With its alluring aesthetics and clever storage solutions, the Lola Sideboard is a must-have for those seeking affordable luxury in their home. Elevate your space with this versatile piece today!
Free Delivery and Assembly

Sustainable

We prefer eco-friendly and sustainable materials.