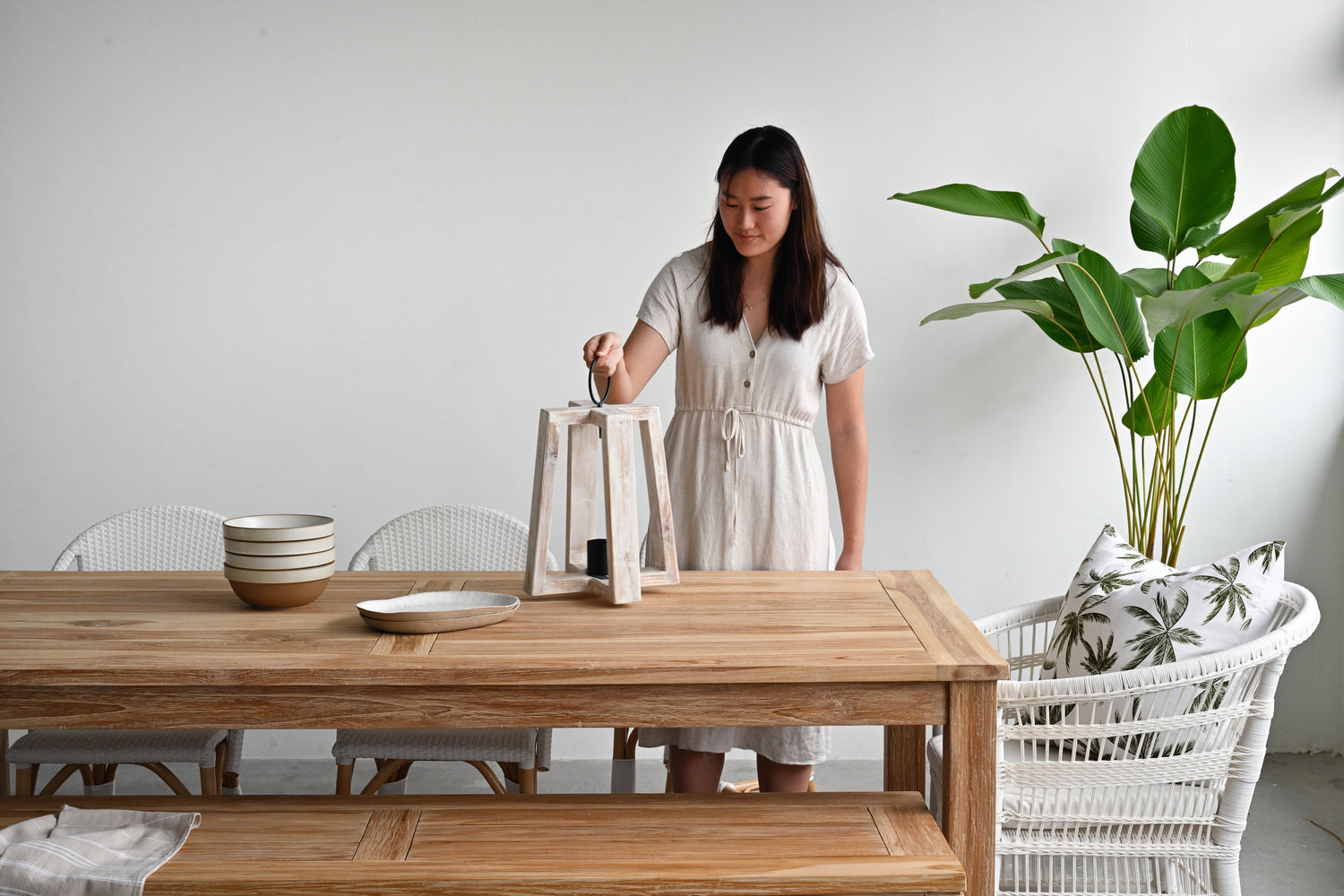 Caring for Outdoor Teak Furniture
Teak outdoor furniture is a popular choice for many homeowners due to its durability, beauty, and resistance to weather conditions. Read on to learn more preserving its charm and ensuring long-lasting companionship for years to come.
Timeless Teak: How to Keep your Outdoor Furniture Looking Fresh
Caring for your outdoor teak furniture is easy and important to ensure it remains beautiful, durable, and practical. Our wooden benches, bar chairs, and outdoor tables and dining sets are made with an outdoor grade of teak, which can withstand the elements without becoming twisted or warped. Plus, it won't crack, splinter, or attract termites. With proper care, your teak furniture will maintain its attractive and durable qualities for years to come.
Regular Cleaning: Clean your teak furniture regularly to remove dust and dirt. Simply use a soft cloth or sponge with warm water and mild, non-detergent soap. Avoid using a pressure washer, as this can damage the wood surface.

Avoid Harsh Chemicals: Steer clear of using harsh chemicals or cleaners, as they can damage the teak wood. Stick to mild soap and water.

Teak Sealer: Teak outdoor furniture starts in a honey/brown colour due to the natural oil in the wood. Over time, it will develop a silver grey patina, which adds character and is a normal part of the ageing process. To maintain the original colour of your teak furniture, consider applying a teak sealer. This is not the same as teak oil. Sealer will help to preserve the golden colour by blocking the sun's UV rays. Apply teak sealer once a year.

Oil is Optional: Teak furniture doesn't require oil to maintain its durability, but oil can help to uphold the original colour. If you choose to oil your furniture, ensure that it is clean and dry first. However, remember that oil can encourage mildew growth, so it's usually not recommended for outdoor furniture in damp climates.

Avoid Stains: Protect the furniture from spills like wine or coffee, as they can stain the wood. If spills occur, wipe them immediately.

Sand Down Rough Patches: If the furniture becomes rough from exposure to the elements, lightly sand down the surface using fine-grit sandpaper, always sanding in the direction of the wood grain.

Natural Weathering: If you don't mind the silver-grey patina that teak develops over time when left outside, you can simply let it be and just clean it occasionally. This weathering does not affect the durability of the furniture.
As your teak furniture ages, it may develop small checks or cracks on the surface, which is normal and doesn't affect its durability. So relax and enjoy the natural and durable quality of your outdoor dining furniture. Remember that regular maintenance is the key to keeping your teak outdoor furniture looking beautiful for many years.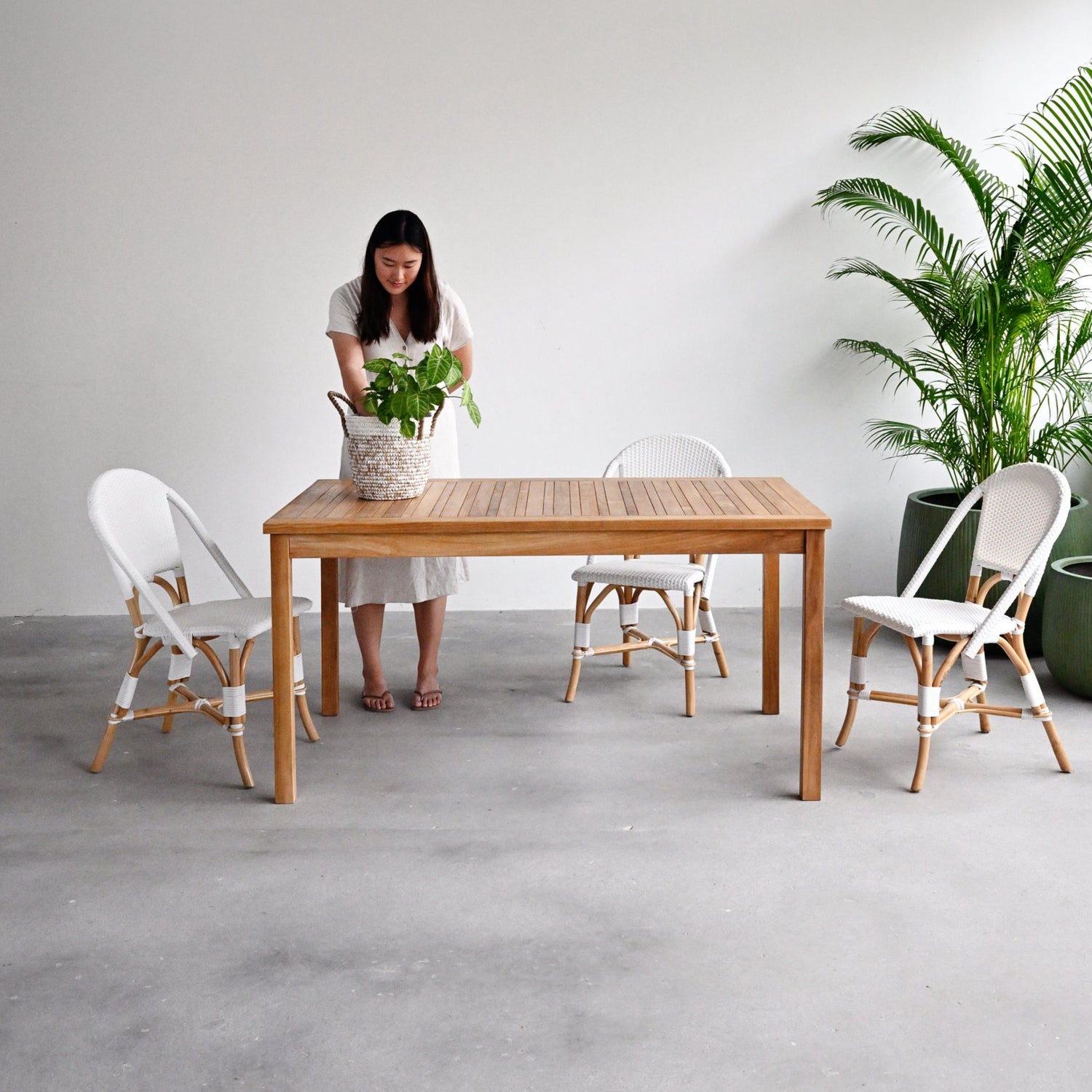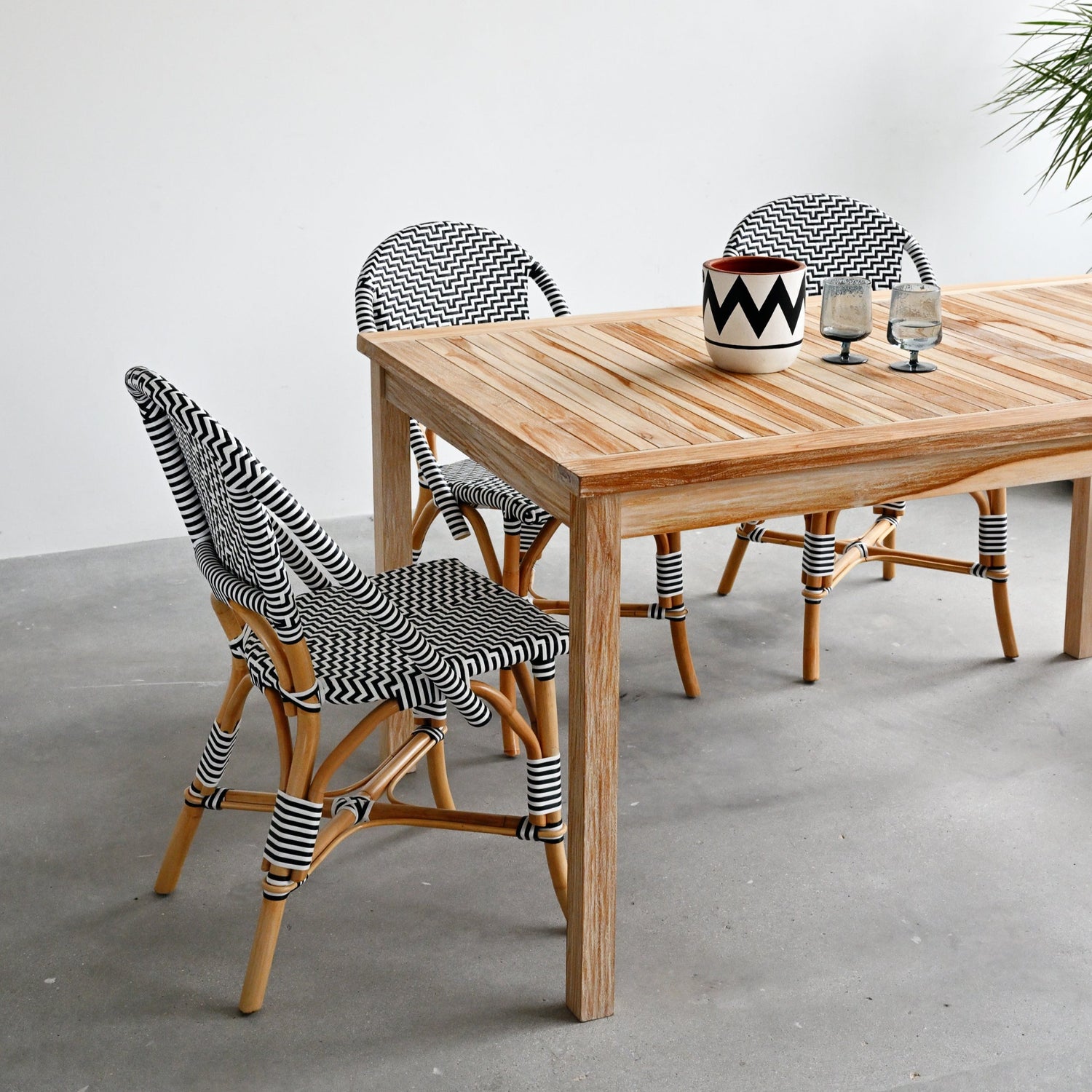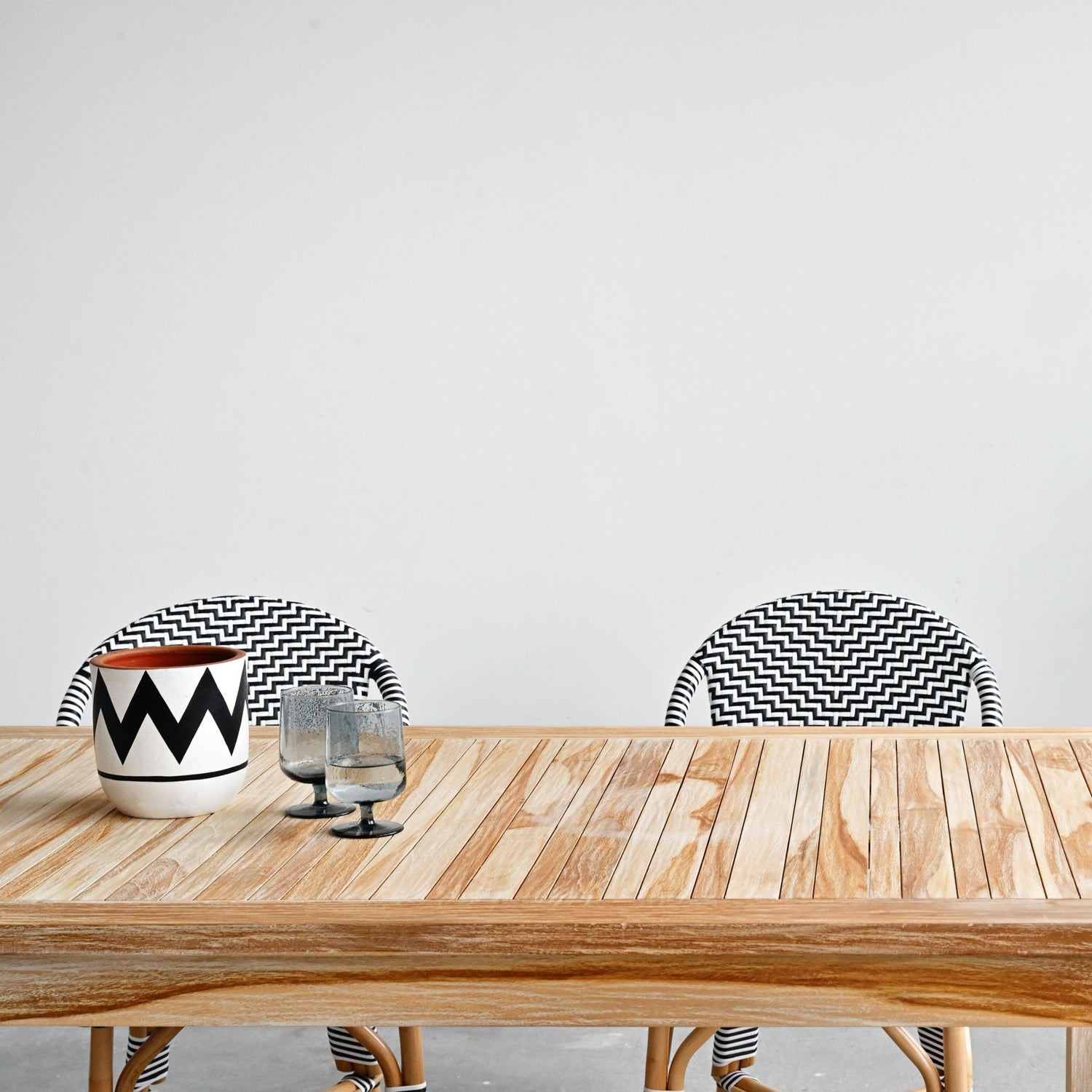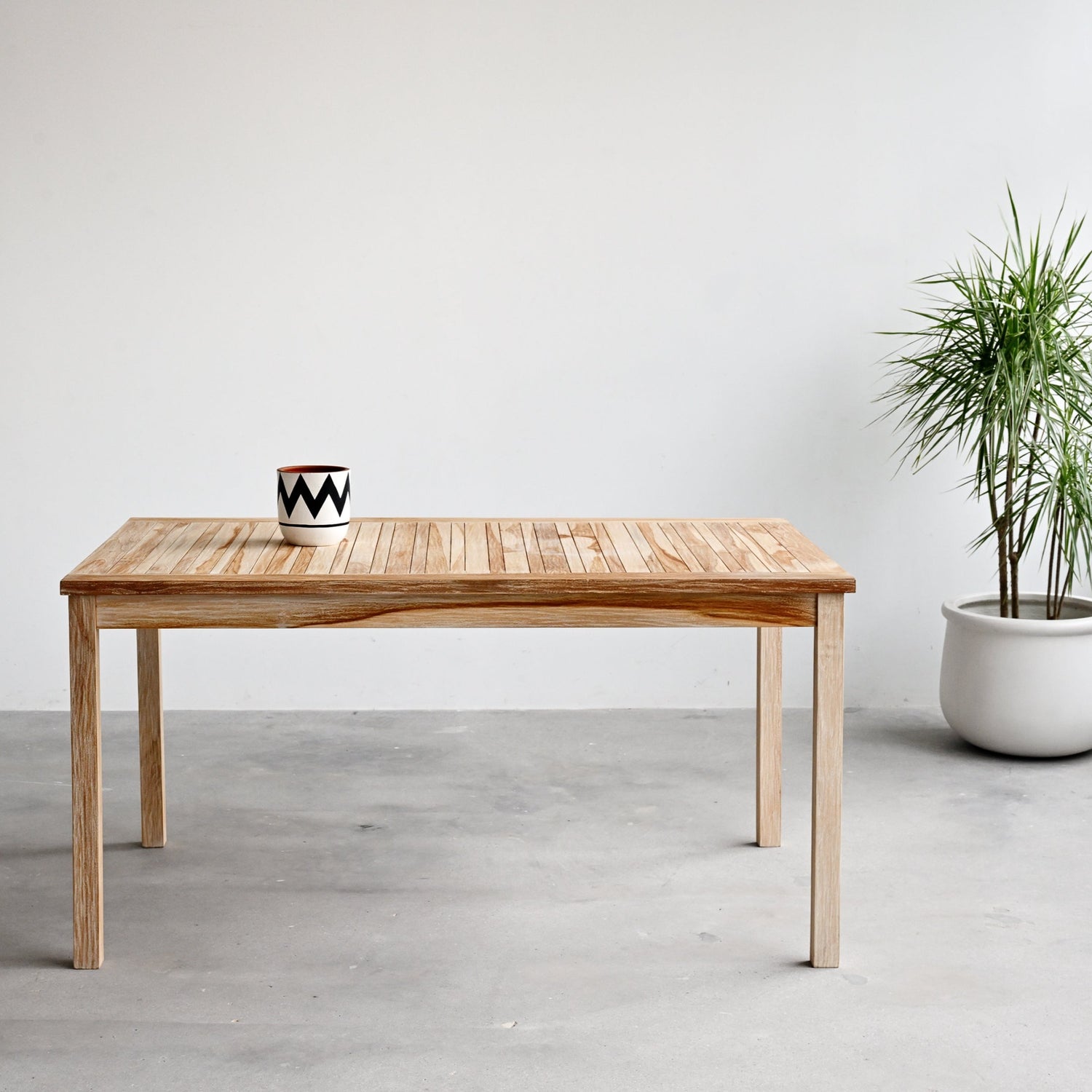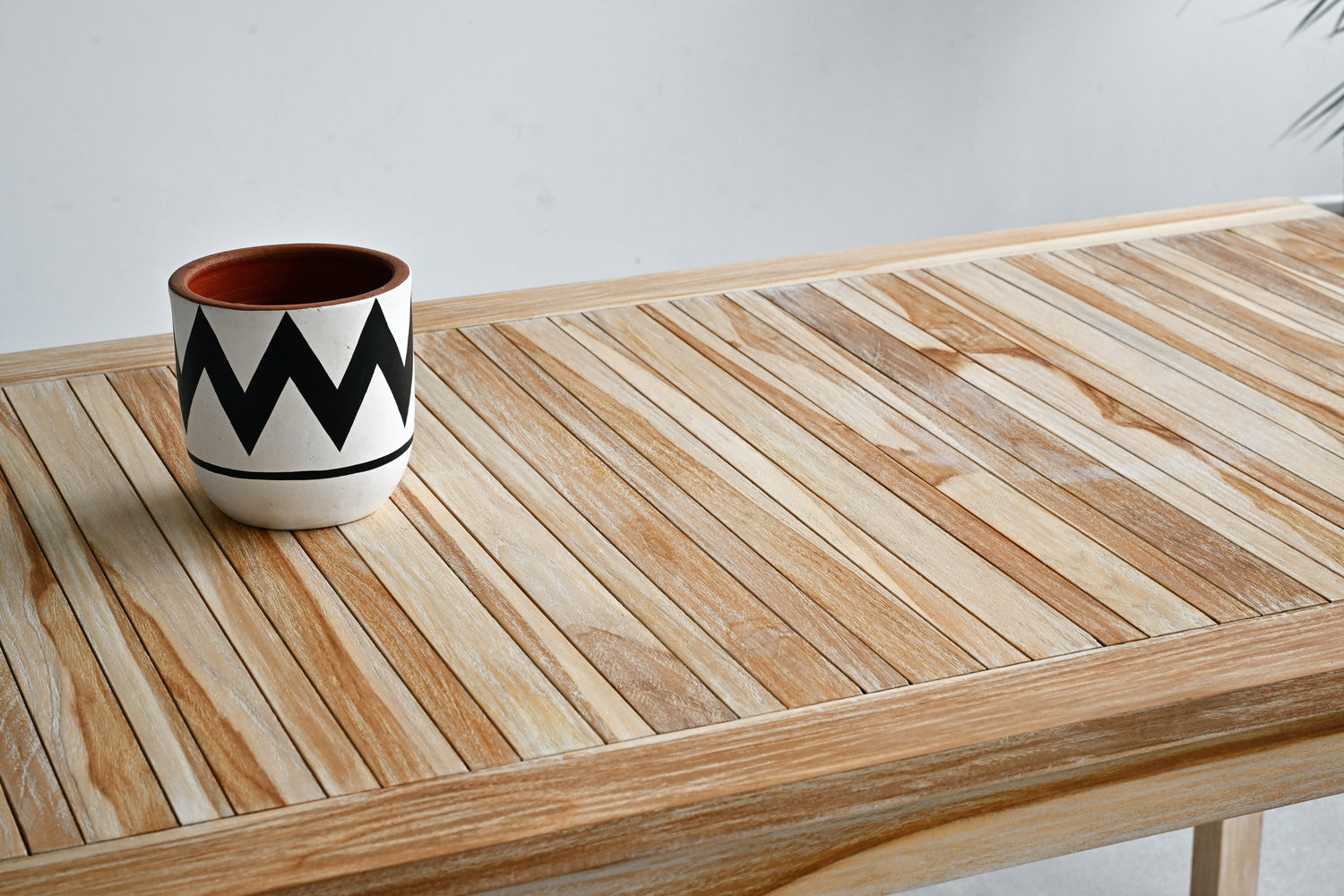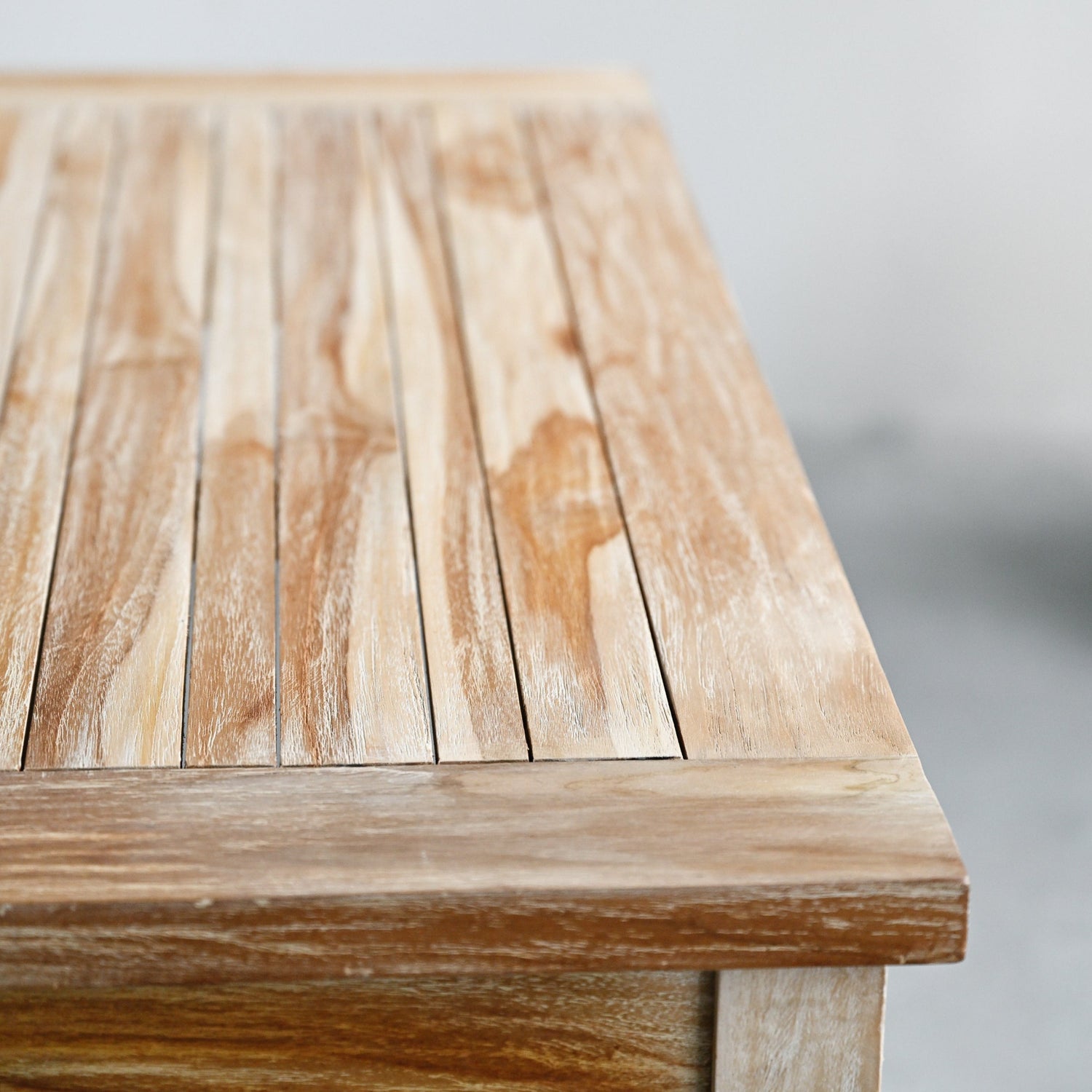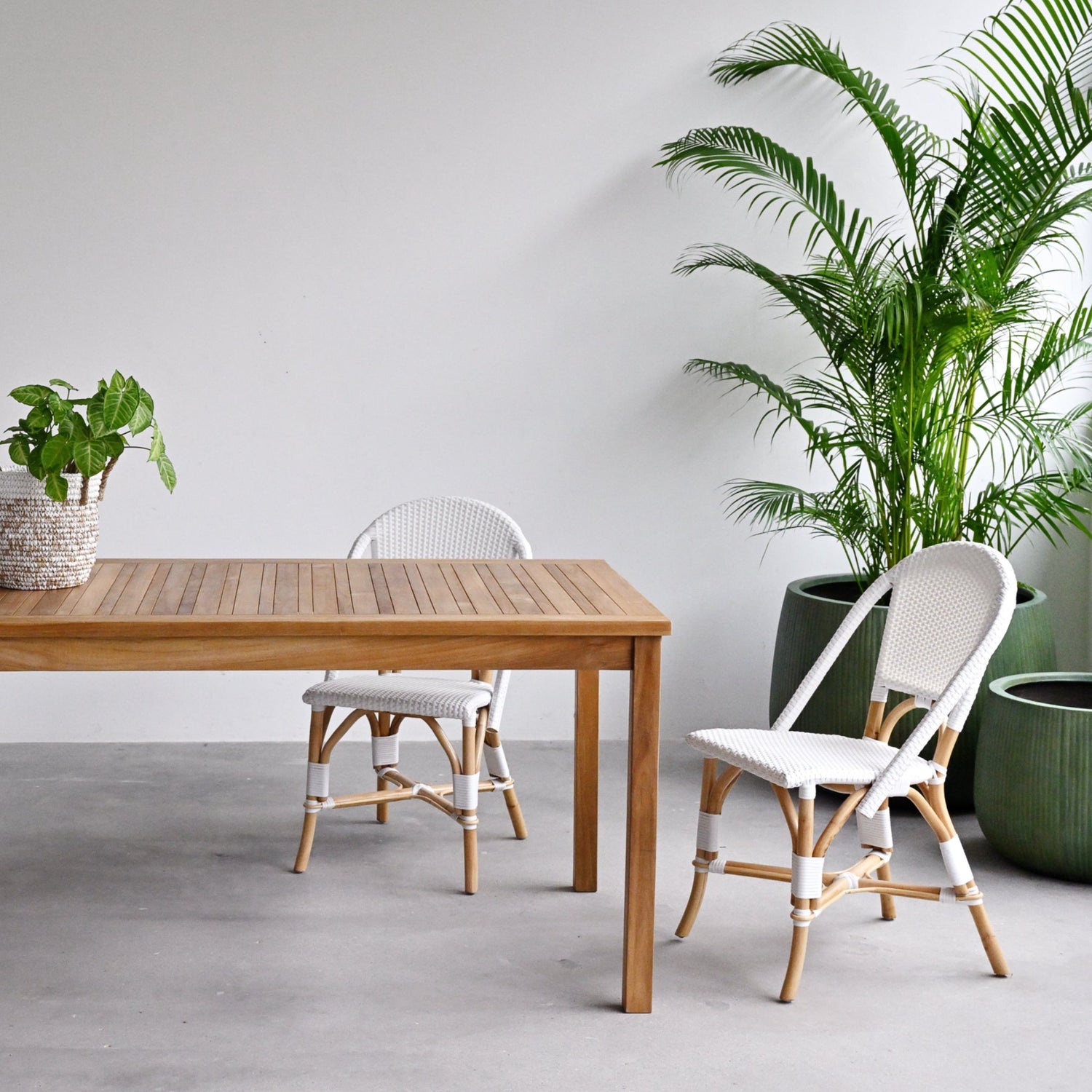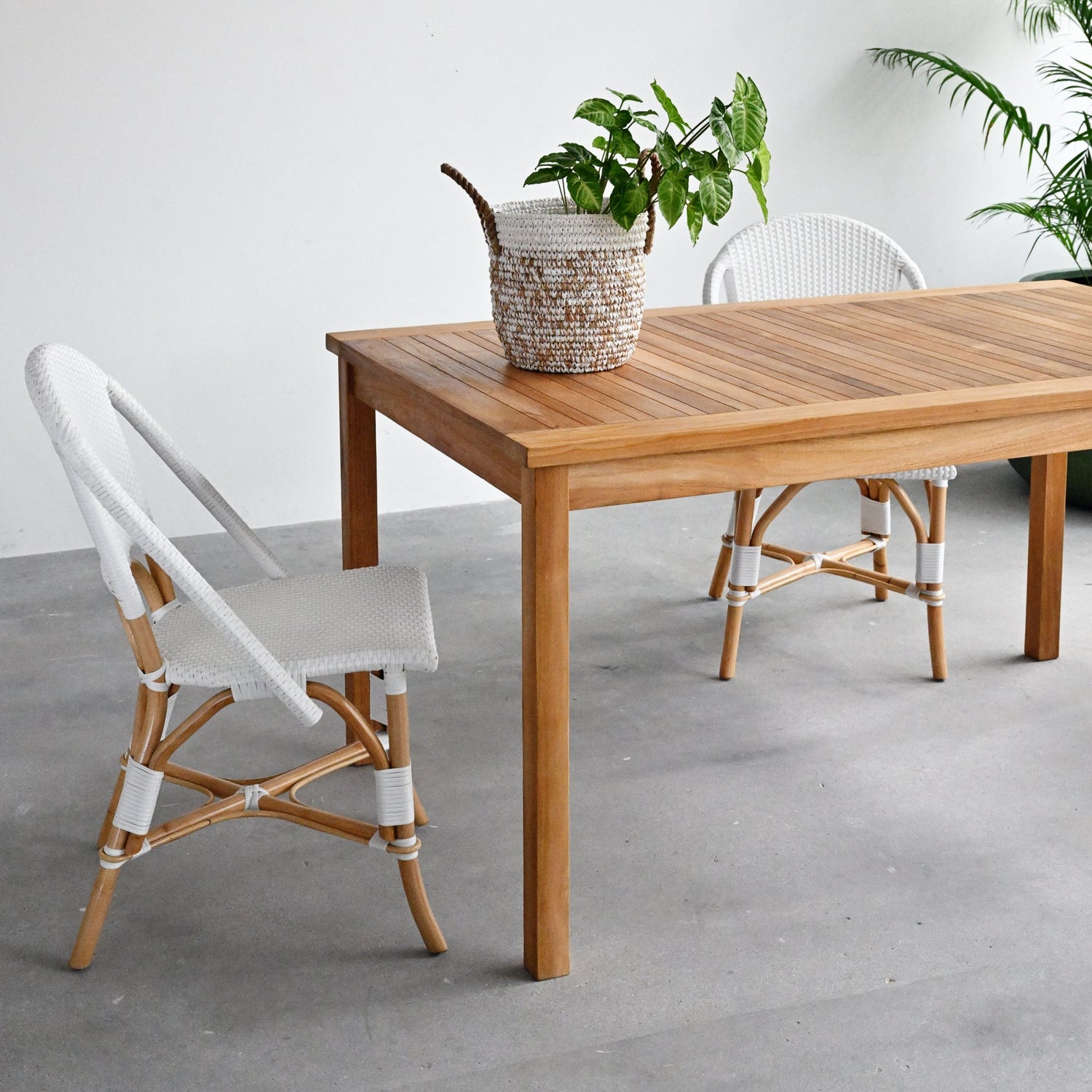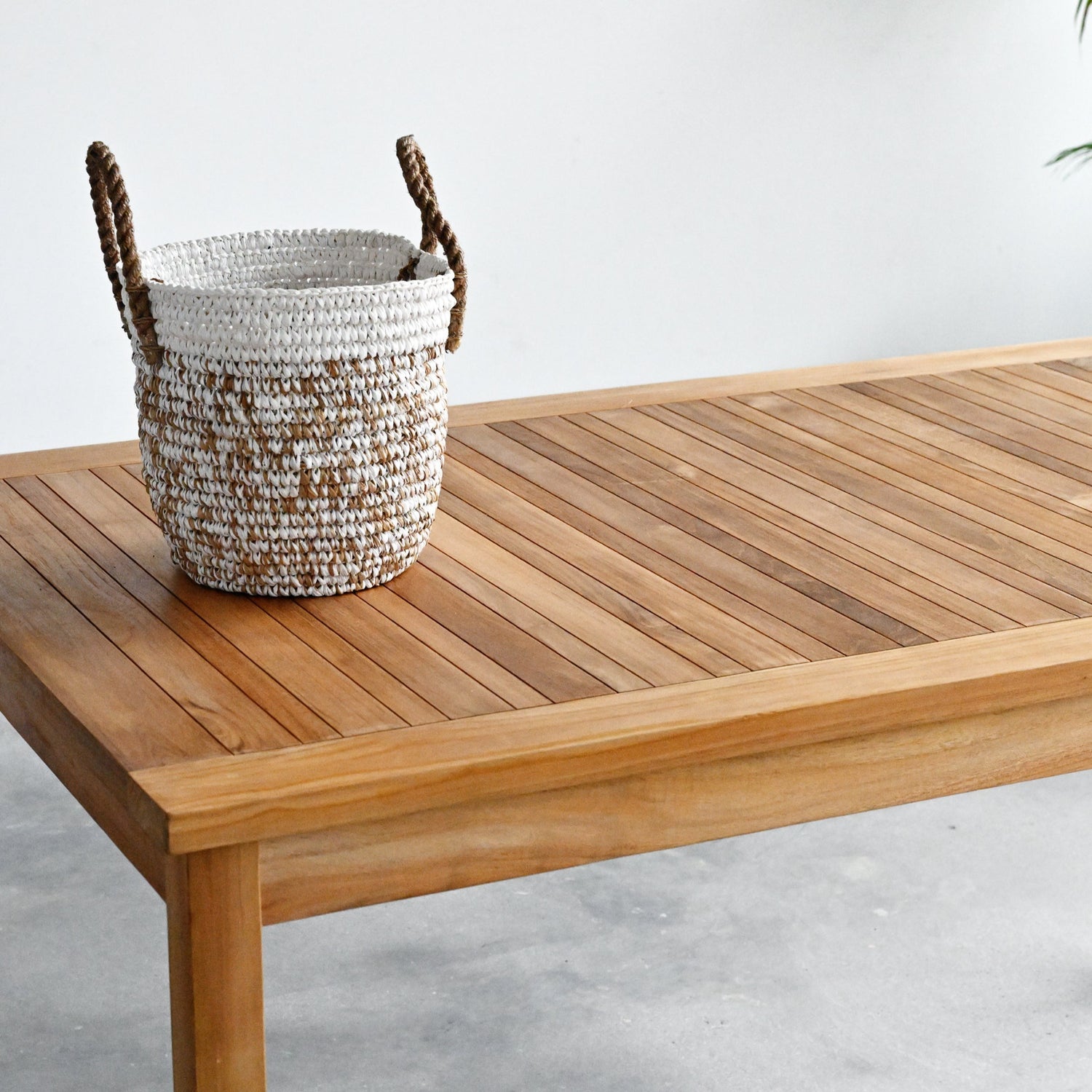 Mimosa Outdoor Teak Dining Table
Regular price

Sale price

$795.00
Share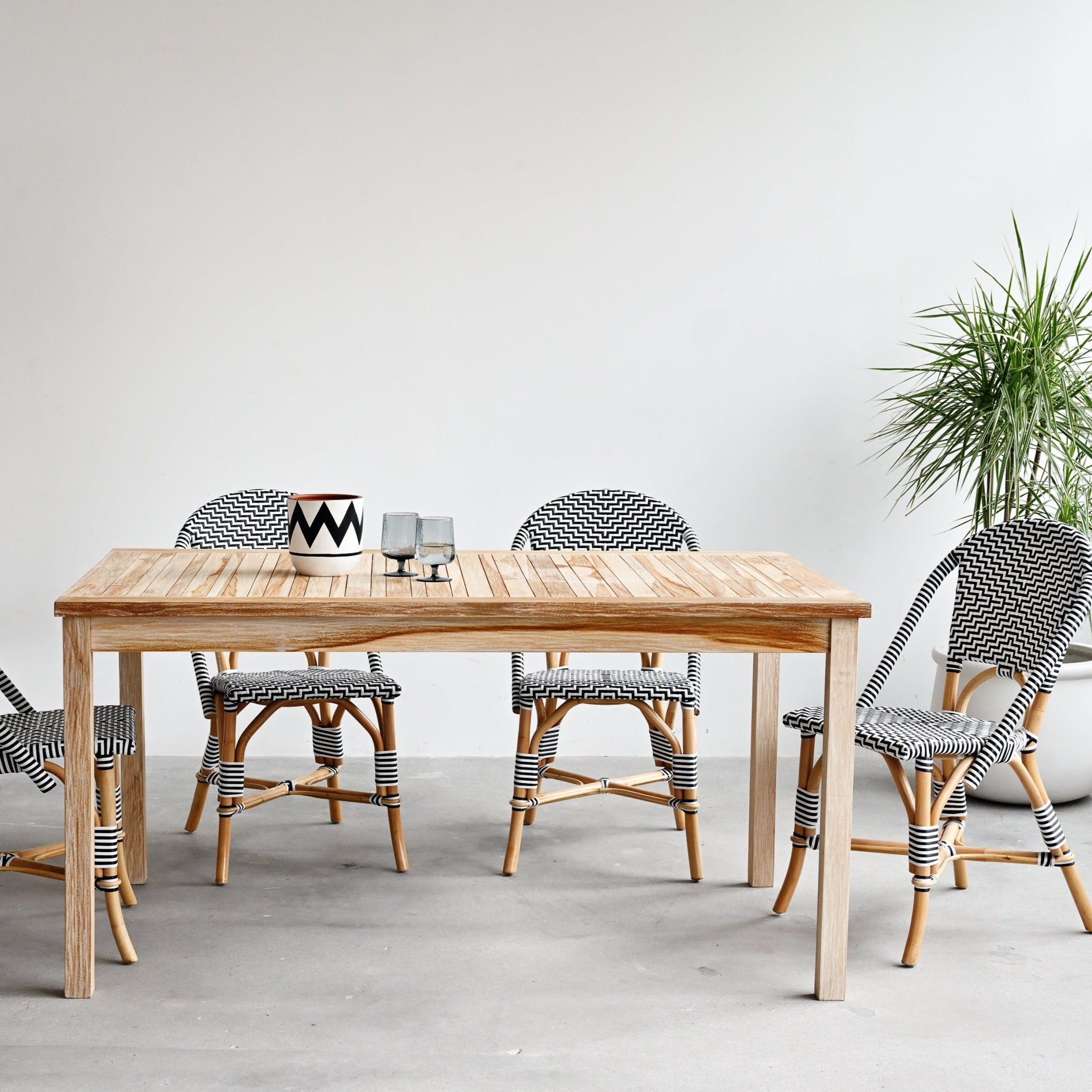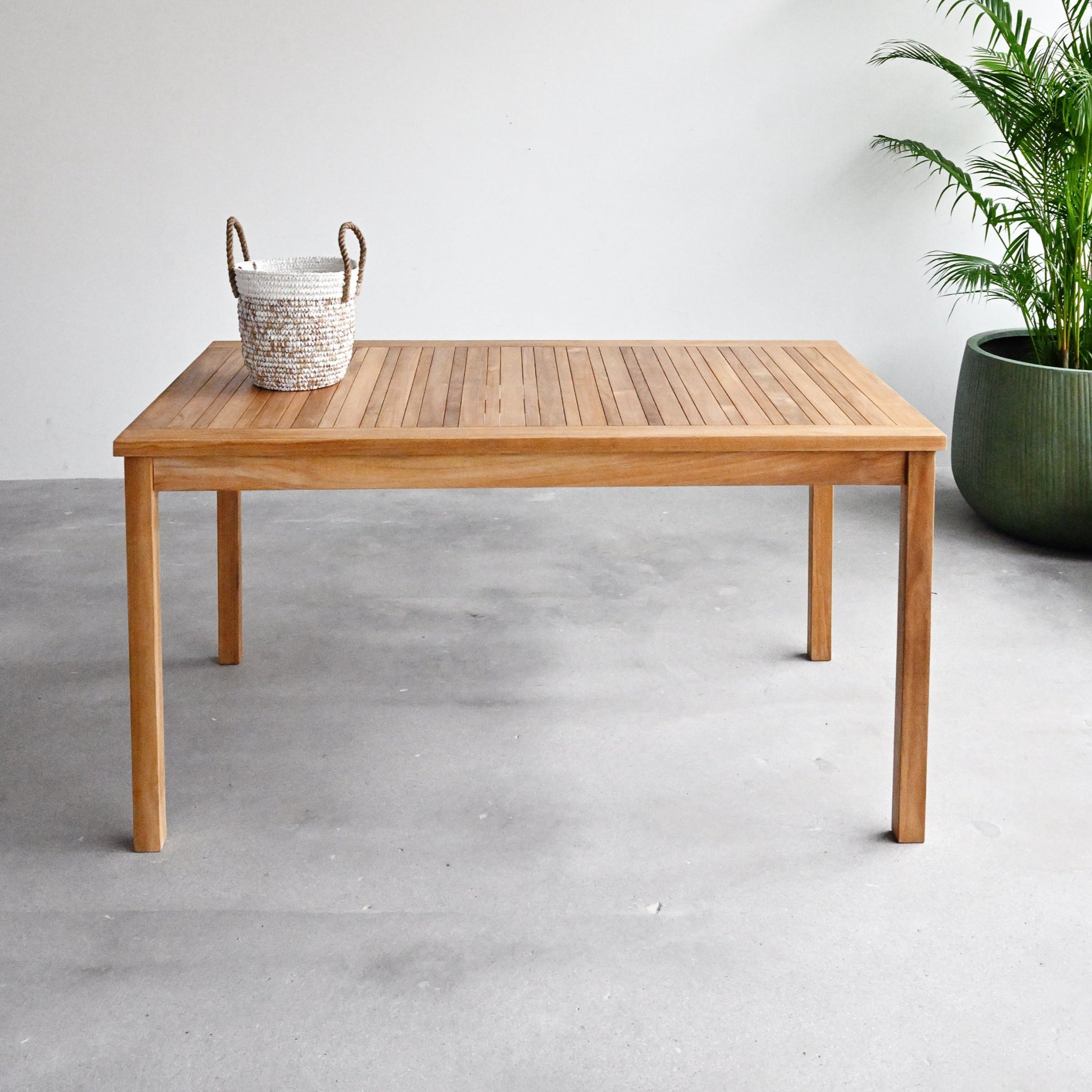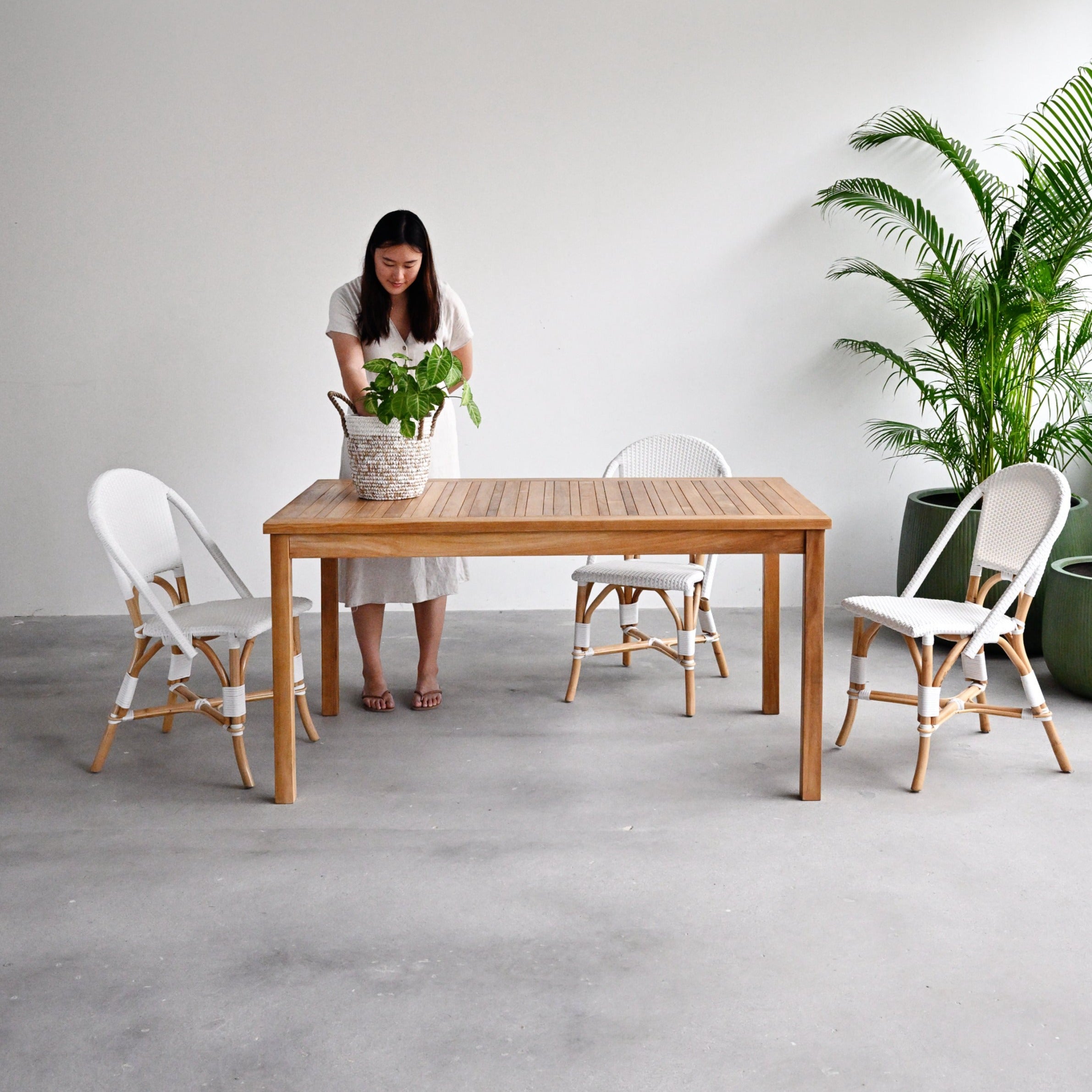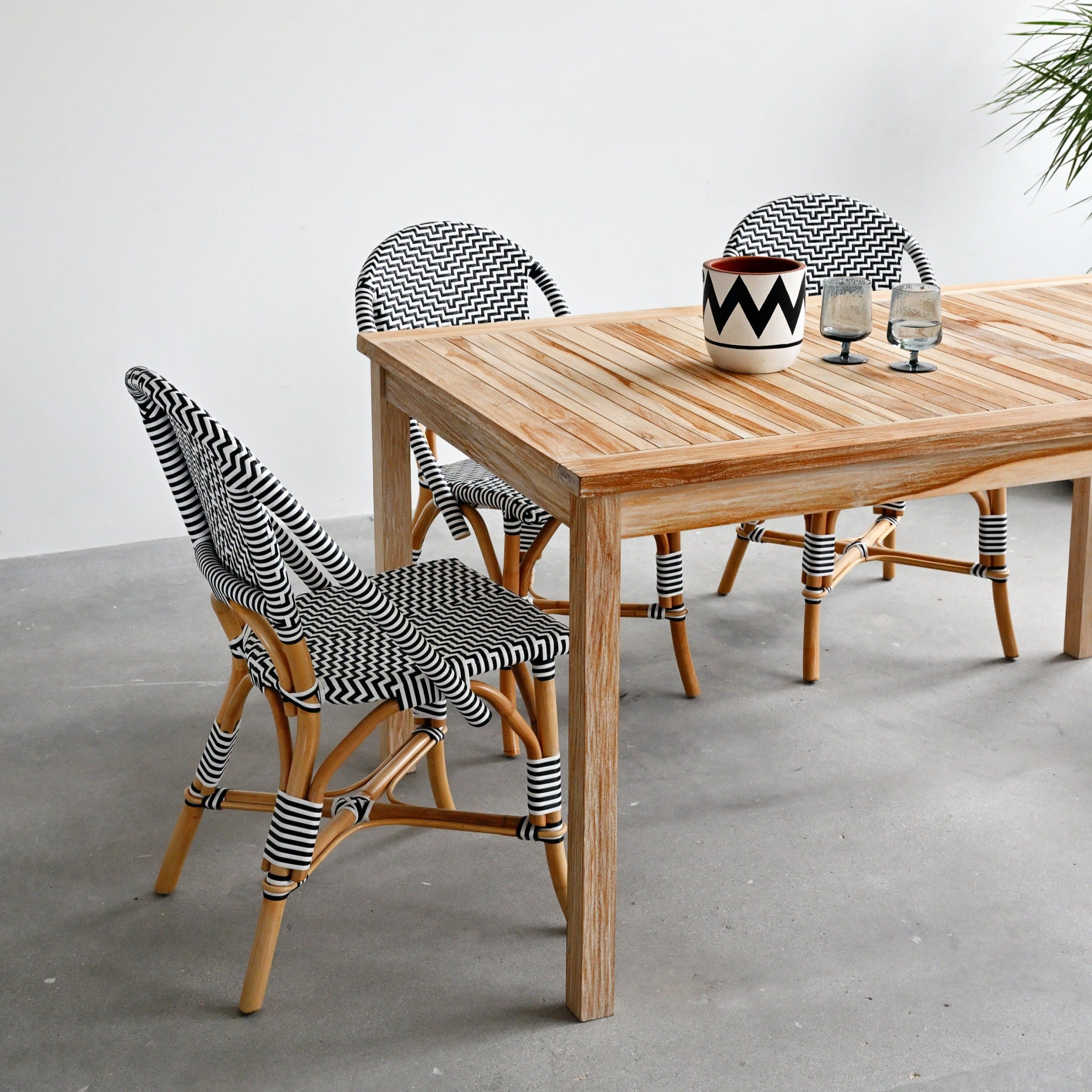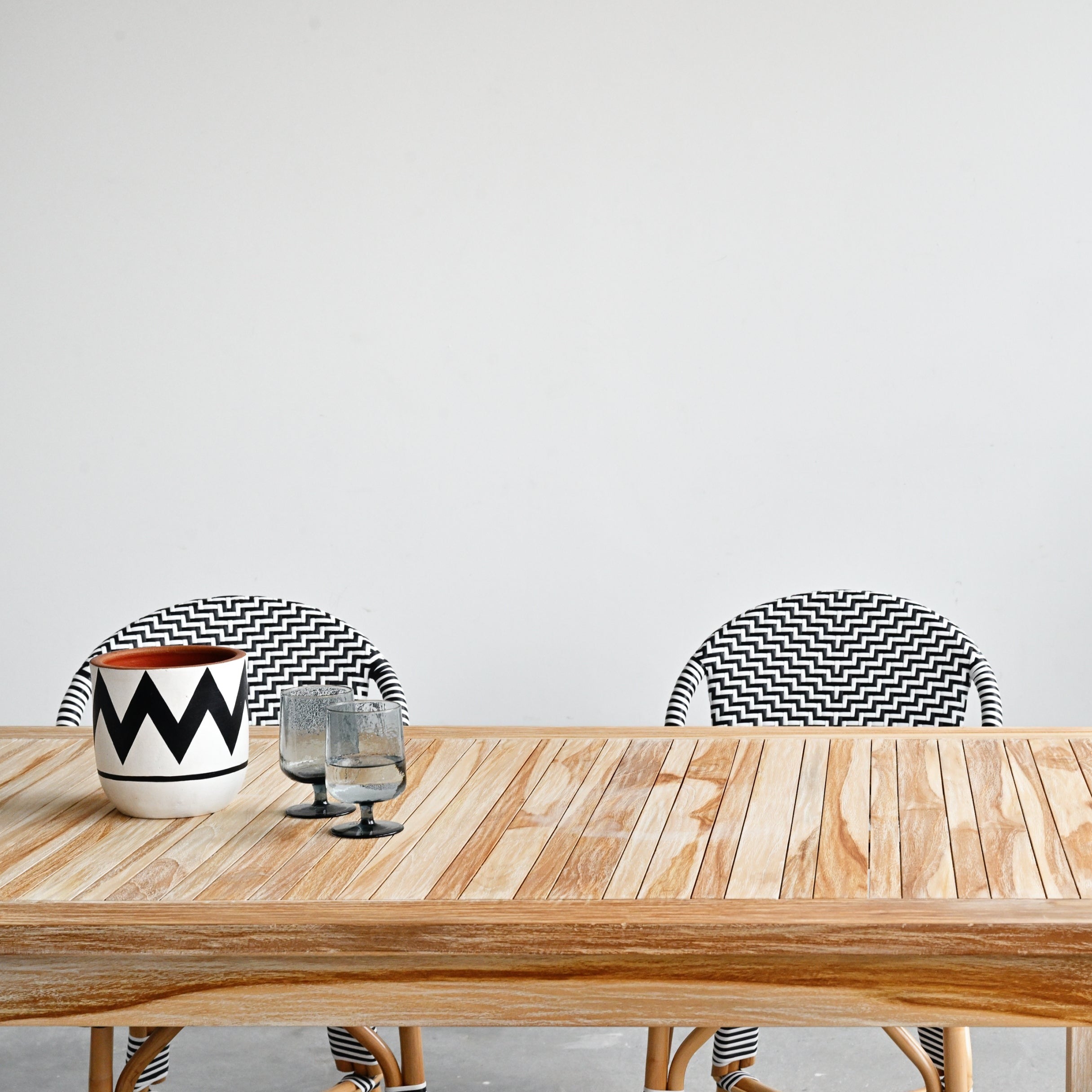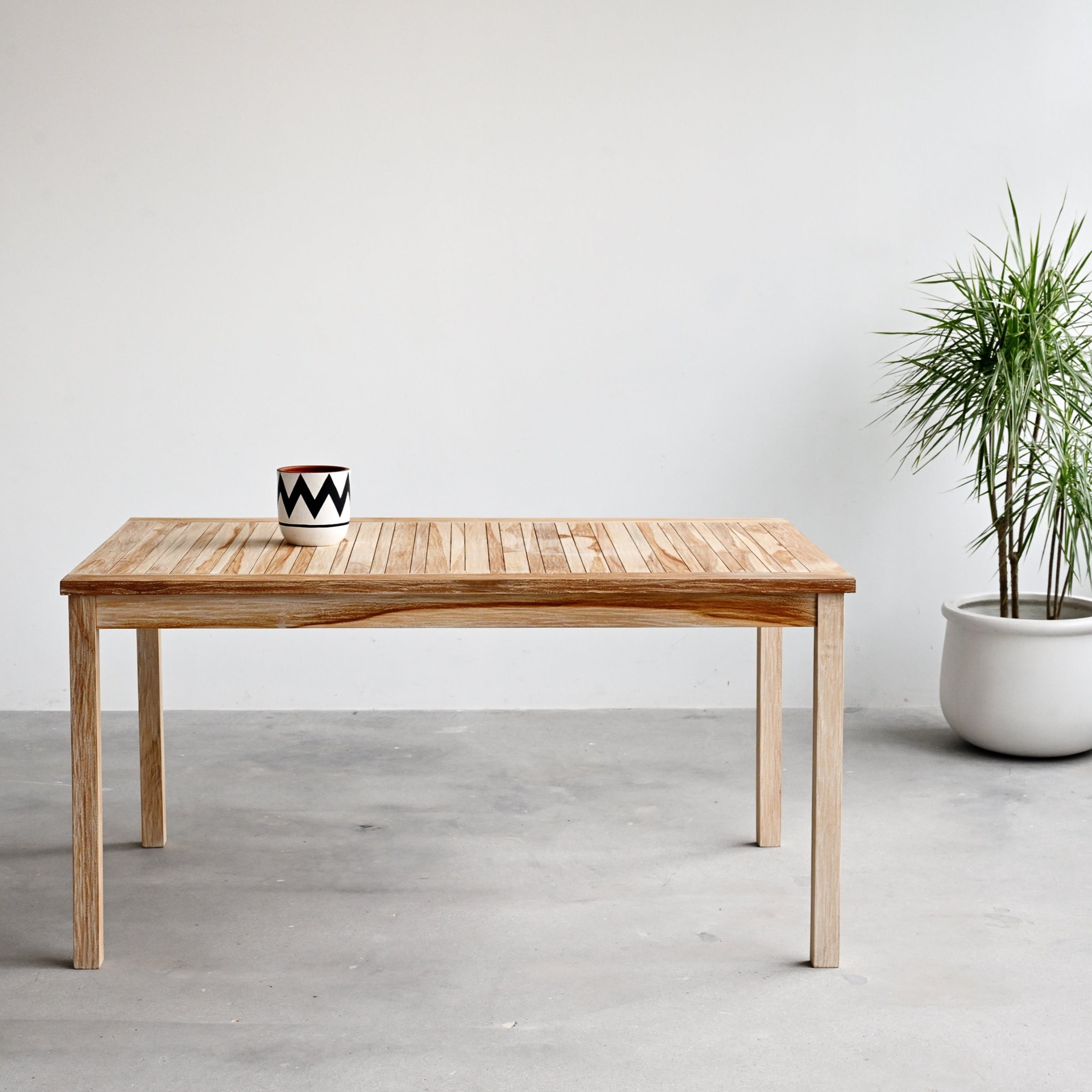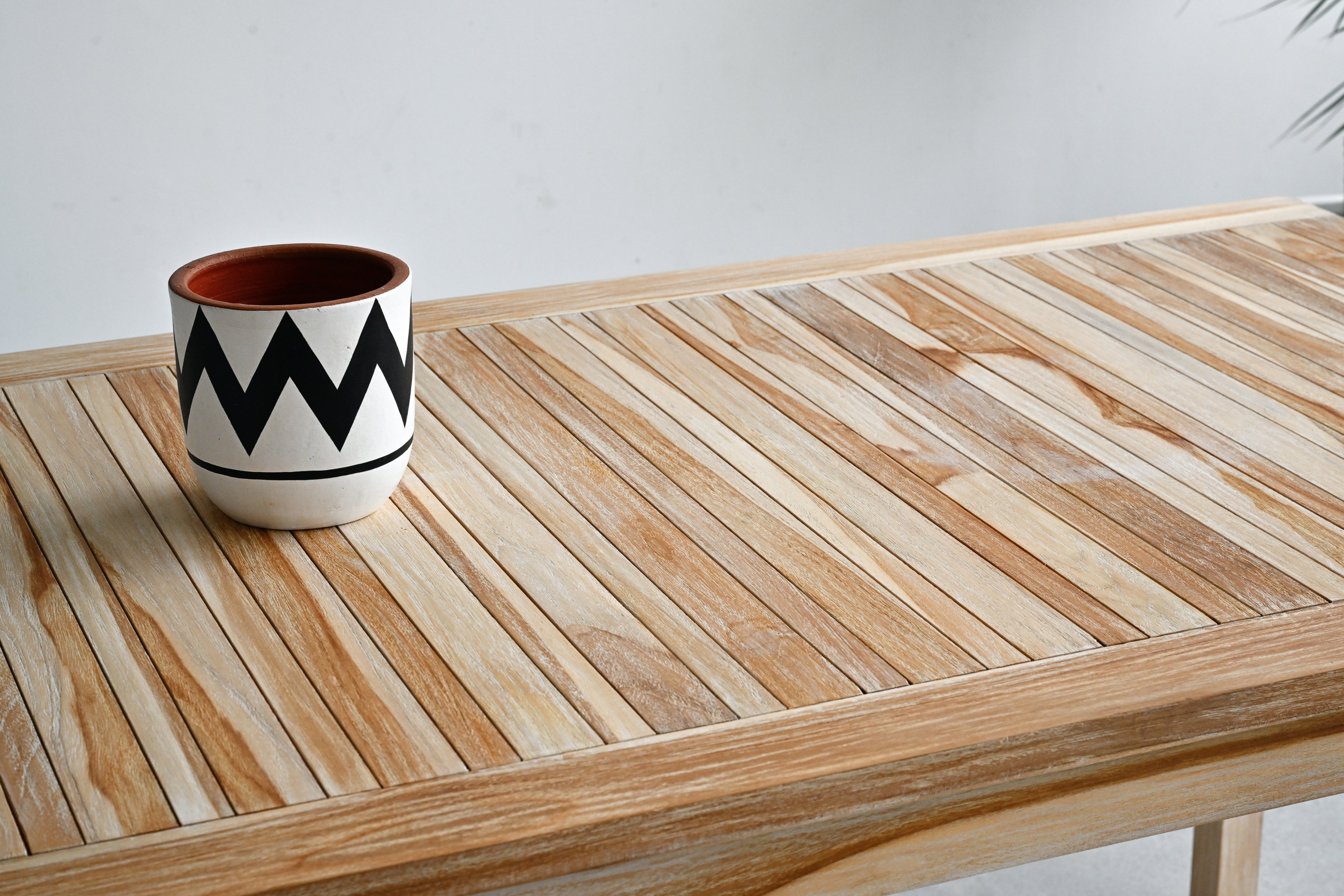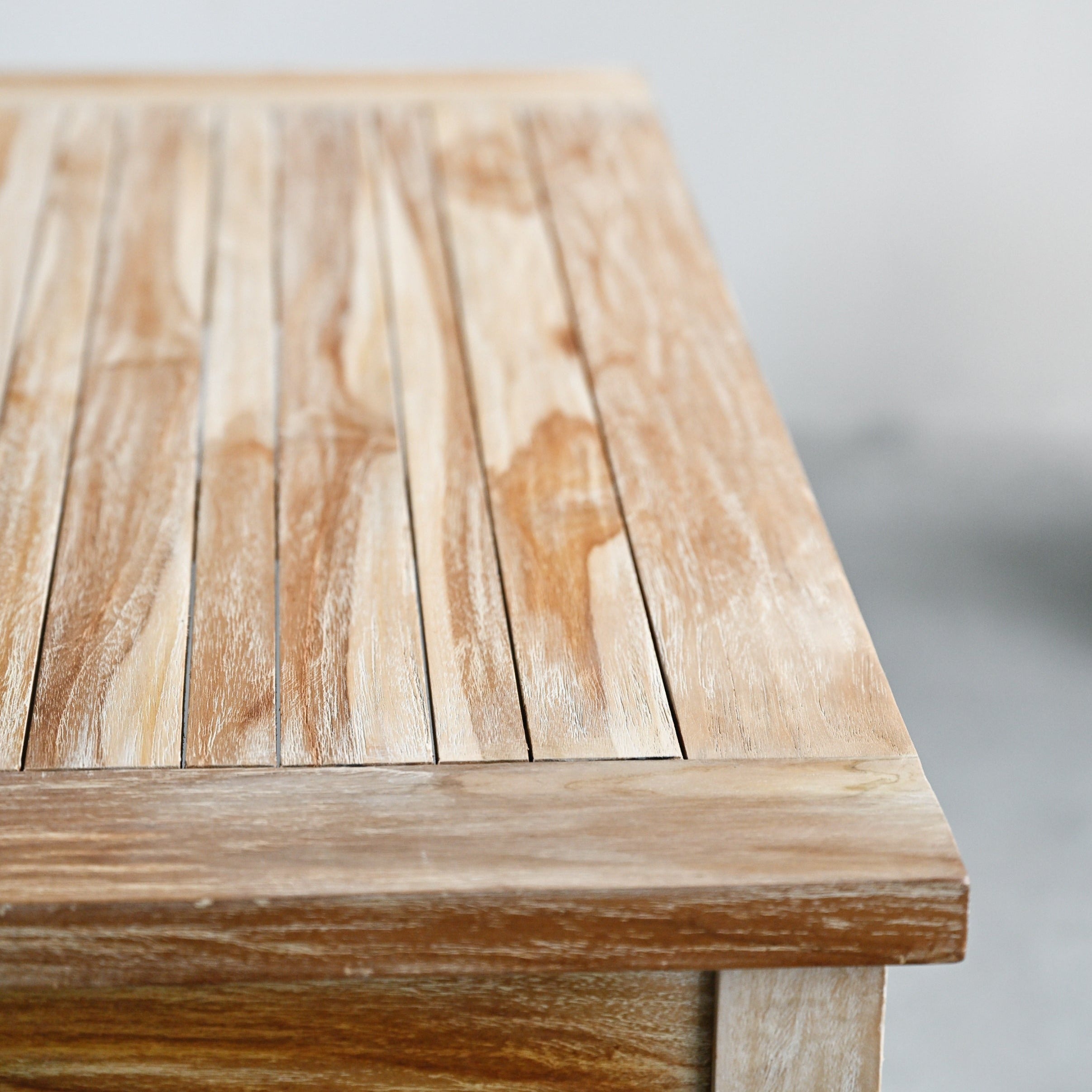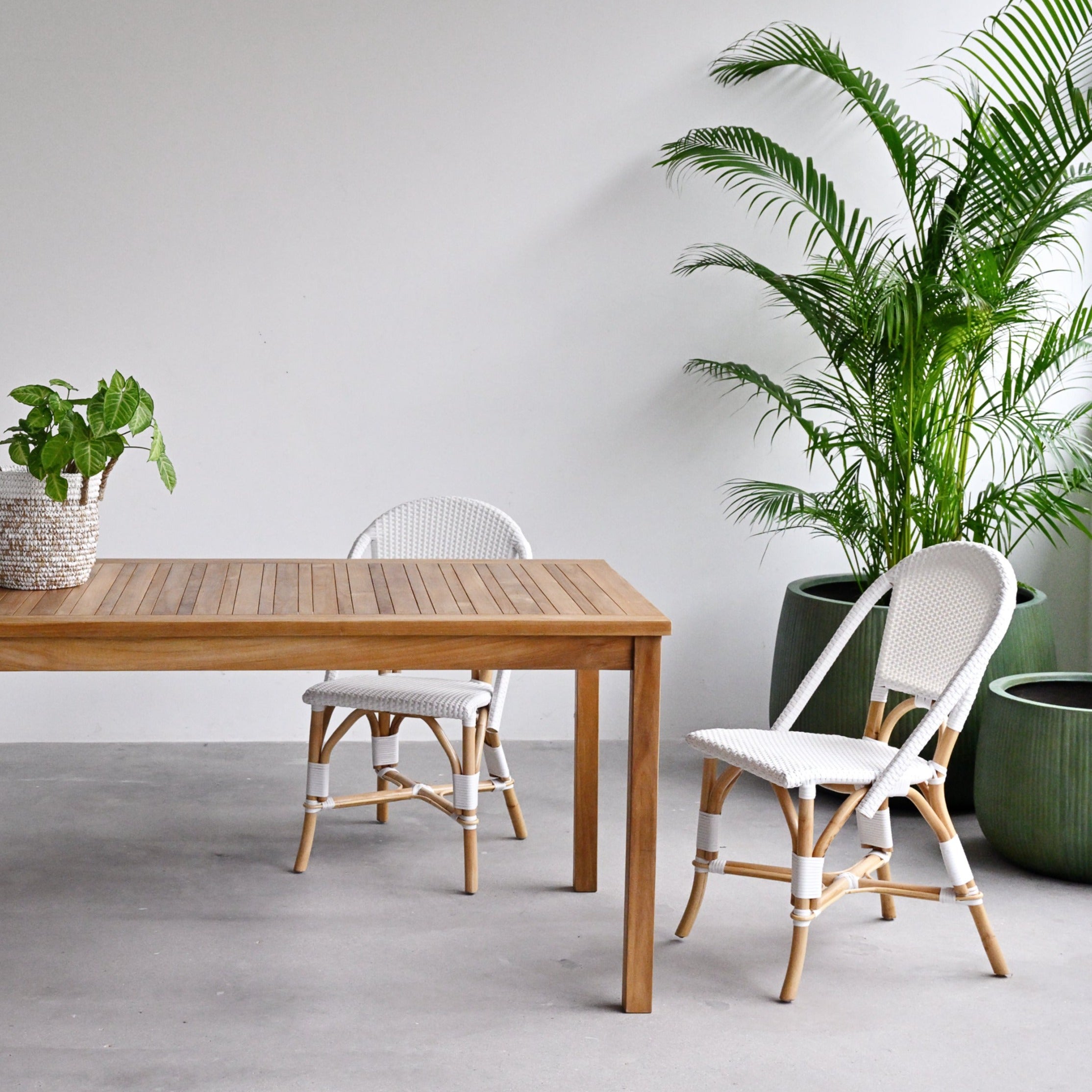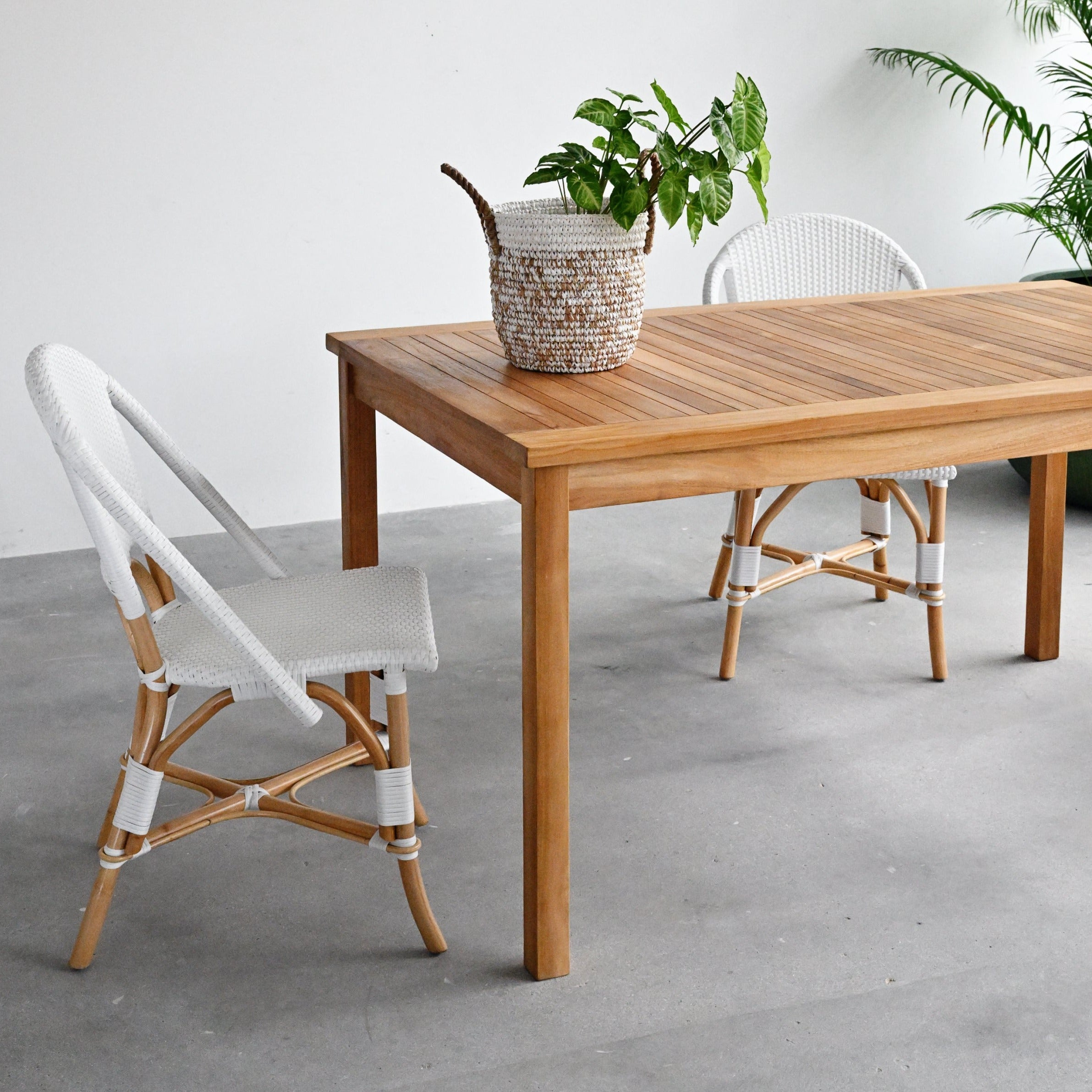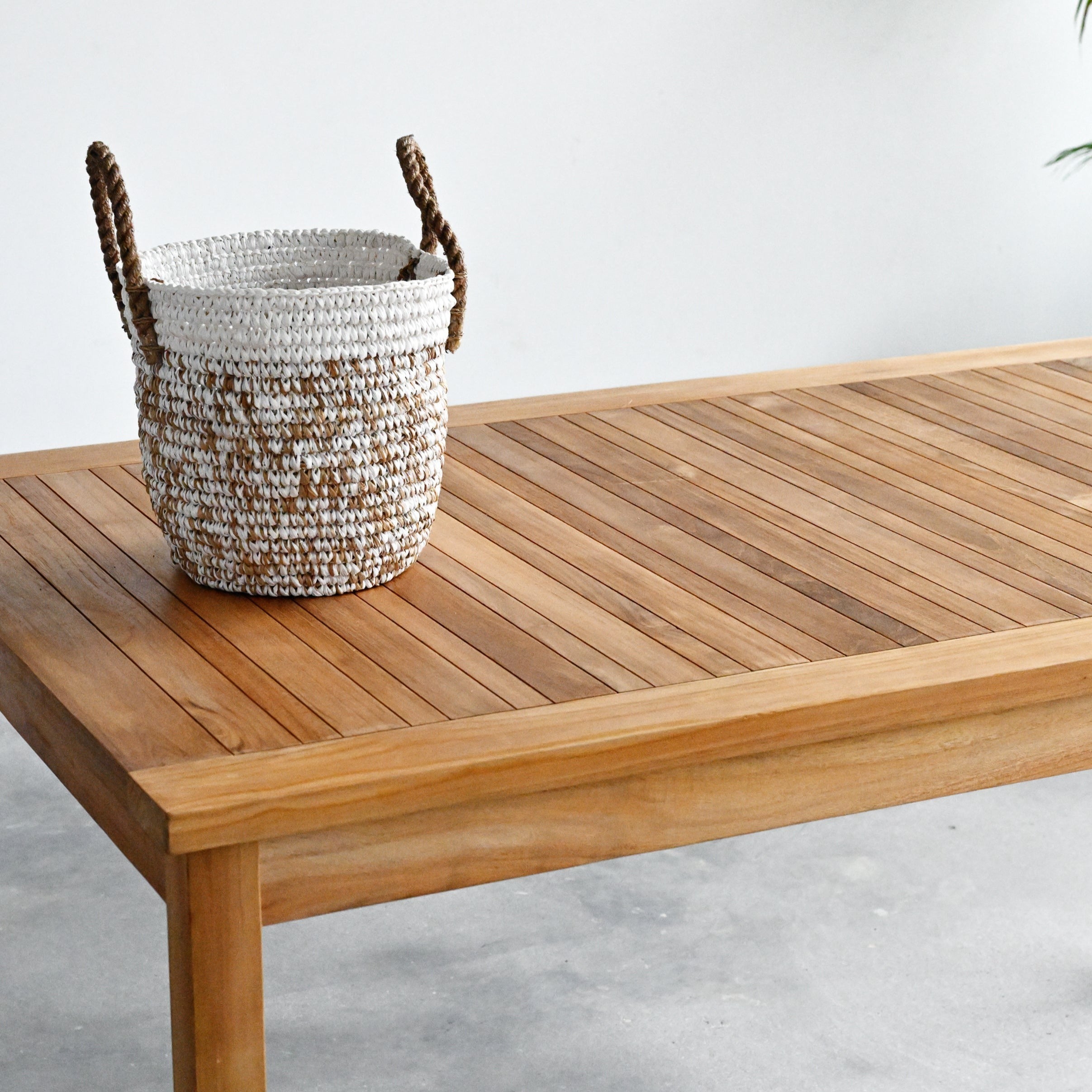 Explore our Outdoor Furniture and Decor Collection